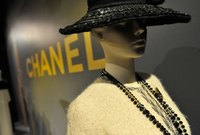 Born into poverty as Gabriele Bonheur in 1883 in the Auvergne region of central France, Coco Chanel revolutionized 20th century women's fashions and reinvented her own biography. Creations like her little black dress, the Chanel suit, Chanel No. 5 perfume remain fashionable nearly a century later. Chanel was also one of the 20th century's first experts at self-promotion to further her business.
Early Life
Gabrielle acquired her father's surname, Chanel, on her parents' marriage in 1884. In 1895 after her mother's death, she and her two siblings were raised in a convent orphanage where she learned to sew. She invented the nickname "Coco" when working later as a singer. Chanel's life changed in 1913 when one of her male admirers provided help with financing so Chanel could open a shop in Paris.
Jersey Fabric
In her first designs, Chanel pioneered the use of jersey in her work. Until she changed its use, jersey was used mostly for male underwear. Chanel chose jersey because it was cheap and available. There was a shortage of many other fabrics during World War 1. The drape of the fabric provided for simple and practical designs that were comfortable to wear. Women's clothing up to this period was based on the Belle Epoque style, designs using huge amounts of material that was supported by uncomfortable corsets.
Trousers, Dresses and Suits
Inspired by men's clothing, Chanel pioneered ladies' trousers as a fashion item. Her collarless Chanel suit, also an adaptation of menswear, remains the same today with a slim skirt and fitted sleeves. Her signature little black dress was the product of Chanel's antipathy to the excessive use of colors common in 1920s fashions. White, black and beige became her favorite shades and remain an expression of understated style and elegance today. Chanel switched black from a representing mourning to denoting chic.
Perfume and Costume Jewelry
Chanel No. 5 has been a top couture perfume since it was launched in 1921. It is made from 80 artificial ingredients rather than the dominant floral fragrances used in the 1920s and give it a distinctive character. Chanel's logo first appeared on the perfume's black and white packaging. She made costume jewelry fashionable – especially multiple strands of real and fake pearls – rather than a cheap substitute for real gems.
Self and Product Promotion
Public relations management was one of Chanel's most important 20th century innovations. She reinvented her childhood as a charming, middle-class idyll rather than her real grinding poverty to overcome the social prejudices of the period. This reinvented background also promoted her styles. Her affair with a German officer during World War II damaged her reputation. Nevertheless, she found new sources of finance and competed against a post-war generation of designers such as Christian Dior by updating her styles. The Chanel suit became an icon and the double "C" logo instantly recognizable.