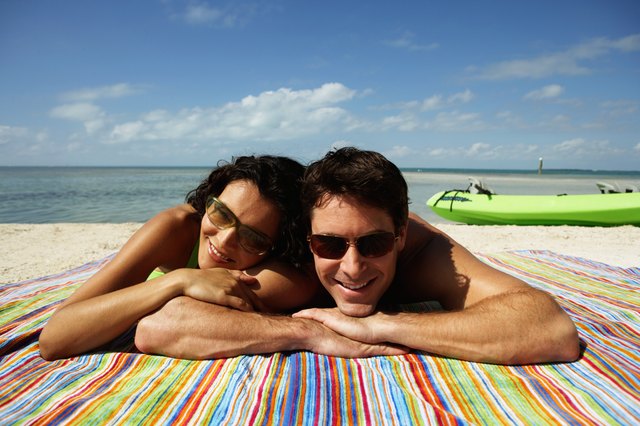 Sunglasses are one of the few accessories with a dual function: fashion and eye protection. They may get tossed on the passenger seat when you're in a hurry, or carefully polished and placed in a designer case. Regardless of how you treat them, sunglasses are essential when it comes to taking care of your eyes and the delicate skin around them.
Since there are countless options out there, finding a way to narrow down the field is the ideal way to find ones that are right for you.
"Not wearing sunglasses is like not wearing sunscreen. How people think of sunglasses mirrors how they think of sunscreen … they think they're not going to be out that long so there's no need to put it on."

Susan Van Dyke, M.D., Cosmetic Dermatologist
Getting Fit
The shape of your face has a lot to do with determining what sunglasses shape works for you. Oval faces are the winners because they can look good with practically any frame, said Joy Gibb, Certified Optician based in Woods Cross, Utah.
If you have a round face, avoid round frames. Gibb suggested a boxier or squared-off look, or "Something that creates more of an angle."
However, rounded or oval frames work well if you have a square-shaped face.
You also want to avoid sunglasses fads. While some styles, like the Wayfarer and Aviator have earned a classic status, most of them will come and go. The oversize frame craze highlights the most common mistake people make when it comes to sunglasses. They chose pairs that fit poorly. Gibb said the gaps were so large that a turn or tilt of the head allowed sun and dangerous UV rays to get through.
"People think these big frames look great, but when they're looking down the sun is getting in at the top," Gibb said.
If a pair you love doesn't fit perfectly, a professional fitter can adjust them to your face.
"If you go to someone who knows what they're doing, even those big frames can be adjusted to fit well," Gibb said.
If one pair will not meet all of your needs, go with a few pairs that change as you do. For example, Gibb suggested having one pair that keeps out the sun, wind or sand to wear when running, cycling or hanging out at the beach. A second pair, a more fashionable set, should be available to wear if you're hanging out with friends. A flashy or funky pair might be used when you are feeling frivolous.
"Sunglasses are really the fun buy," Gibb said. "You can let loose a little and let your personality show a bit more."
Eye Protection
Fashionable sunglasses are fun, but practical sunglasses can help preserve your peepers.
Prolonged exposure over many years to hazardous UV rays can lead to cataracts and macular degeneration said Susan Van Dyke, M.D., Cosmetic Dermatologist in Paradise Valley, Arizona. It's impossible to put sunscreen lotion on your eyeball, so sunglasses represent a sun protection factor you can put on and take off at will.
"Not wearing sunglasses is like not wearing sunscreen," Van Dyke said. "How people think of sunglasses mirrors how they think of sunscreen … they think they're not going to be out that long so there's no need to put it on. But two-thirds of the damage people get (from sun exposure), they don't think they're getting."
Sunglasses also offer protection to the skin around the eye, which is just as susceptible to damage. On the light side, this results in wrinkles or crow's feet because of squinting. At worst, it could lead to skin cancer.
If you spend much of your time outdoors, the risk of damage to the eye and the surrounding area can be sped up by five or six years, notes to Ken Frederick. Frederick is a consultant to The Vision Council, a national organization that represents the manufacturers and suppliers of the optical industry.
"Everyone is worried about the effect UV damage has on skin, but it has the same, if not even higher consequences to our eyes," he said. "It's the result of a long-term accumulation so most people aren't aware of this because these things tend to happen when you're older."
However, damage most rapidly progresses in childhood, when your eye and skin have less natural protection, Frederick said.
"We need to get the message out to Moms and Dads to put sunglasses on their children," he said. "Just like you slather their arms and legs with sunscreen, you need to make sure they wear sunglasses for protection."
Don't skip the shades even on cloudy days.
"It's similar to going under a tree," Frederick said. "The UV light still reaches the ground, and light reflects back at you and gets everywhere."
Getting What You Need and Pay For
UV protection is the most important element of sunglasses lenses. Other qualities are helpful but optional.
Polarized lenses filter light coming from a specific direction, and reflects it depending on your movements or which way you are facing. Glare-resistant lenses tend to hold the light. Both types of lenses keep light from getting to your eye, which is a good thing.
As far as color goes, the lens itself does not have to be super dark to provide optimum protection, Van Dyke said.
"UV blocking is a clear coating or a property of the lens itself, so it's not a color," she said. "Amber or bronze lenses will block the rays."
Decades ago, some sunglasses manufacturers made products with very dark lens, but those lens offered no UV protection. Van Dyke said the rays were able to penetrate the sunglasses when the wearer's pupils were dilated. A few sunglasses, like children's toy sunglasses, are still made this way. Look for the UV protection label before making any purchase.
You do get what you pay for with sunglasses. You don't have to fork over hundreds of bucks for a pair of designer shades to get good protection and quality, but an $8 pair from a convenience store shelf is not as dependable.
"You pay $500 for the name of the designer on the side, but spending money on glasses is not a bad idea," Van Dyke said. "The quality of the lens itself is important, and you're paying for the construction of the frames and the amount of work that went into them. Think of all the money we spend trying to get rid of wrinkles and crow's feet when we could help prevent that by wearing sunglasses."
General Tips
Sunglasses should fit well on the bridge of the nose, where a good portion of its weight is going to sit.
The glasses should sit evenly on your face, with no gaps or spaces for slippage. The glasses should not give you a headache from wearing them, nor leave marks or grooves on your head when you remove them.
There should be no distortion when you look through the glasses, and they must not be so dark that you can't make out colors. For example, you must be able to wear them and still see the difference between a red or green traffic light.
If the lenses get scratched or warped, they will distort images. The UV coating is sprayed on to some inexpensive glasses. If it's scratched off, that means the glasses have lost some UV protection. Glasses with deep scratches will likely need to be replaced.