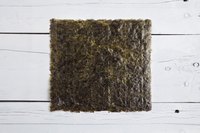 If you're trying to add a little versatility to your diet with seaweed, nori makes a good choice. Its mild grassy flavor makes a good accompaniment to your sushi, and you can also eat nori as a crispy snack or sprinkled on soup or salad. This sea veggie is low in calories and rich in a number of health-promoting nutrients.
Good for the Calorie Conscious
One full sheet of nori, which weighs 2.1 grams, contains 4 calories. Foods with less than 20 calories are considered free foods on the diabetic exchange list. Nori also contains fiber, 1 gram per sheet. Although one sheet alone is not a significant source of fiber, it can help you meet your daily needs, which range from 25 grams to 38 grams a day depending on gender. Fiber is satiating and may help you eat less, according to the Academy of Nutrition and Dietetics. People who eat more fiber also tend to have lower body weights.
Rich in Antioxidants
Antioxidants are nutrients in food that help your body fight off free radicals, substances that damage cells and may be responsible for aging and the development of certain illnesses such as cancer and heart disease.
Beta carotene is an antioxidant found in nori that may help protect your cells. One sheet of nori contains 0.5 milligram of beta carotene. The University of Maryland Medical Center suggests you aim for 3 milligrams to 6 milligrams of beta carotene from fruits and vegetables a day.
Nori also contains a small amount of the antioxidant vitamin C, 4 milligrams in one sheet.
High in Iodine
Iodine plays an important role in helping your body convert the food you eat into energy, also known as your metabolism. Iodine is found in only a few foods, including seaweed like nori. One sheet of nori contains 44 micrograms of iodine. Adults need 150 micrograms of iodine a day.
Smidge of Omega-3s
The omega-3 fatty acids found in fish, eicosapentaenoic acid, or EPA, and docosahexaenoic acid, or DHA, may improve heart health by reducing inflammation, lowering blood pressure and decreasing triglyceride levels. Most plant sources of omega-3s contain alpha-linolenic acid, or ALA, and it's not certain if the ALA has the same benefits as EPA and DHA, according to the Harvard School of Public Health.
Nori contains a small amount of EPA and DHA. But because the sea vegetable contains very little fat, the amount is insignificant.