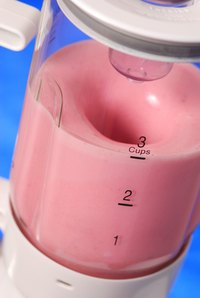 There are many physical or medical conditions that require a soft diet, but there are preferred and safe ways to puree food in order to meet those dietary requirements. If you're convalescing you'll want something that's easy to use, and easy to clean too.
Food Processor
Food processors are electric devices for chopping and puréeing food, that come with a selection of changeable discs. The advantage of a food processor is that the gradient of disc can be changed, allowing for different consistencies of food. Also food processors have wider and larger bowls, meaning more food can be prepared at any one time, and no liquid is required to blend the food.
Blender
Blenders, as the name suggests, are less versatile than food processors; they merely blend, using fixed blades. The advantage they have is they are generally cheaper. A blender requires a certain amount of liquid to allow the solid food to move toward the blade or it will not work. Blenders tend to be slightly less reliable than processors; lumps can be left in the food if you are not careful.
Hand-held blender
Hand-held blenders are also known as immersion blenders. They do not have a bowl, but are hand-held, and are used to puree the food in the container as it is being cooked. An obvious advantage of a hand-held blender is that it can be used to prepare very large amounts of food. A disadvantage is that it is much easier to splash food. Hand-held blenders are, however, easy to clean.