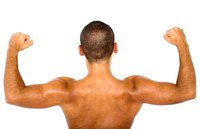 Use of anabolic steroids may cause permanent hair loss in both women and men who may already be genetically predisposed. Any hair loss resulting from the use of steroids should be considered permanent.
Causes
Anabolic steroids are androgenic, meaning that they increase the levels of male hormones such as testosterone and DHT in the body. This is what produces all of the masculinizing effects, including muscle growth as well as side effects such as acne and hair loss. When male hormones are increased, they bind to hair follicles, causing hair loss in those who are already genetically predisposed to the problem. Steroids will not cause baldness in those who do not have an inherited tendency toward male pattern baldness.
Prevention/Solution
It is very difficult to reverse this hair loss once it has occurred. The most effective form of prevention is to avoid the use of anabolic steroids, particularly those with the most androgenic effects. For people who have already suffered hair loss, the methods used to reverse all forms of hair loss, including topical applications (Minoxidil), oral medication (Propecia) and surgical treatments (hair transplants), may have some degree of effectiveness.
Warning
Hair loss is not the most serious potential side effect of anabolic steroid use. The use of anabolic steroids can also cause acne, sexual dysfunction, infertility, mood disorders and liver damage.