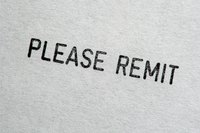 Creditors use collections agencies to gather delinquent debts. A collection agency may contact you to collect valid debt. However, the Fair Debt Collection Practices Act protects consumers from abusive collection attempts.
Contact
Collections agencies may not call you before 8 a.m. or after 9 p.m. A debt collector may call people associated with you, including at your work, to find your whereabouts. The collector is not allowed to discuss your debt with anyone else, nor can it harass your friends and family.
Harassment
Collection agencies cannot harass or threaten you. They may not make false claims about whom they are or about your debt. They may not threaten to sue you, unless they are legally permitted to file a lawsuit.
Considerations
Collection agencies must not contact your work if you tell them your employer does not allow phone calls. You may make a written request that the agency stop contacting you. After the request, it may only contact you to notify you of a lawsuit or to affirm the "no-contact" agreement.
Warning
A collection agency may sue you if the statute of limitations on your debt has not expired. Depending on state laws, a judgment against you could result in wage garnishment.