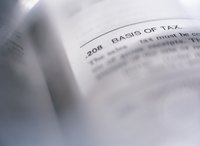 Limited liability companies (LLCs) can be owned by many different types of business entities, including living trusts. Living trusts are often established to protect the assets of an aging individual from estate taxes, as the assets of the trust are not treated as that of the owner. Limited liability companies are convenient subsidiaries of a living trust because they offer flexible taxation options.
Taxation of the LLC
An LLC with a living trust as its single owner is considered a disregarded entity for tax purposes. The disregarded entity status is a result of the default classification of single-member LLCs as sole proprietors for tax purposes. This type of entity does not file for income taxes at all. Instead, the single owner (the living trust) reports any income or losses resulting from the LLC as its own. When owned by a single living trust, the LLC entity does not pay taxes itself.
Taxation of the Living Trust
The living trust reports all income from the LLC on its tax forms. A living trust must file its federal taxes via form 1041 "U.S. Income Tax Return for Estates and Trusts." As of 2010, the IRS taxed living trusts based on the amount of their income ranging from 15 percent to a maximum of 38.6 percent.
Taxation of the Owner
Many living trusts are designed to funnel their income directly to the single owner and beneficiary. The owner must report income and losses on his personal income tax forms each year. The income from the subsidiary LLC is funneled to the trust before reaching the owner. This means the owner does not need to make any extra provisions for reporting his income from the living trust to account for the LLC.