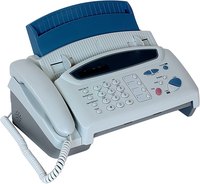 Fax machines are widely used in the business world, as they are relied upon to send information fast. Fax technology has become even more sophisticated with features such as fax forwarding.
Definition
Fax forwarding is the process of forwarding an incoming email fax (e-fax) to a designated fax machine, or another person's email address. According to Indiana University, fax forwarding is an automated option that is enabled through an e-fax email account.
Function
To forward faxes, a person's email must be set up with an e-fax system, which is web-based. Once this service is downloaded to the person's email, there is an option for the user to activate the fax forwarding feature. The button to enable fax forwarding is often located in the "options" category of email boxes. At this point, the user can type in the printer's address if that is where they would like the fax to be forwarded. They can also type in email addresses if they wish to have faxes forwarded to others.
Benefits
The option to forward faxes is useful when business people want to receive electronic and hard copies of an incoming fax. Setting up faxes to automatically be sent to the printer provides convenience to busy businessmen and women, and ensures that people are always kept in the communication loop.