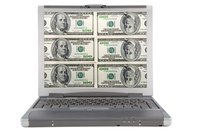 A computer sales representative is a professional who sells computers and peripherals to customers. These professionals are often employed by computer manufacturers, computer distributors or retail employers.
Education
Most employers require a high school diploma or GED for this occupation, but some may require an associate's degree in an information technology discipline if the job requires assisting customers with computer installation or maintenance.
Qualifications
This occupation requires a technical aptitude along with excellent interpersonal skills, as well as good organizational skills.
Responsibilities
Responsibilities include contacting customers to sell computers, parts, peripherals or services to meet the established sales goals of the organization. This involves extensive phone and personal contact to customers and businesses within a specific territory or region.
Customer Service
Along with sales initiatives, these professionals often assist customers with the equipment they purchased to ensure customers are satisfied with the products and services.
Salary
Compensation for this occupation often includes a base salary, as well as a bonus or compensation structure. As of July 2010, CBSalary.com lists a national average salary of $59,434 per year.