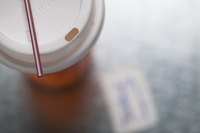 Stevia, a natural sweetener extracted from the leaves of the Stevia rebaudiana plant, is generally promoted as an alternative to refined sugars and chemically derived sugar substitutes. Unlike a laxative, pure Stevia does not "encourage bowel movements to relieve constipation," according to the Mayo Clinic.
Considerations
Certain manufacturers include fiber or sugar alcohols in their Stevia products. Consumed in excess, these ingredients may produce symptoms which mimic laxative abuse, such as diarrhea, gas, bloating and cramping.
Prevention/Solution
To prevent potential laxative-like side effects, purchase only pure Stevia products with ingredients like Stevia, Rebaudiosides or Steviosides. Avoid products with added fiber, or with sugar alcohols like erythritol, isomalt, lactitol, maltitol, sorbitol and xylitol.
Safety
Countries like Japan have safely used Stevia for decades, with no clinical reports of loose stools, diarrhea or nausea upon ingestion. In December 2008, the Food and Drug Administration approved Stevia for use as a food additive in the United States.
Warning
Naturally, individual reactions to Stevia may vary. Consult a physician if intestinal discomfort results from consumption of Stevia.
Fun Facts
Virtually free of calories, carbohyrdates, sugar, and cholesterol, Stevia is appropriate for diabetics and low-carb dieters. It does not promote tooth decay, contribute to weight gain or raise blood glucose levels.