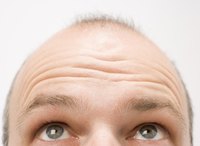 Mononucleosis, commonly referred to as mono, is a disease that tends to affect adolescents and young adults. Signs and symptoms include fatigue, sore throat, fever and an enlarged spleen. The stress that mono places on the body may cause a form of temporary hair loss known as telogen effluvium.
Facts
Hair grows in cyclical phases of growth and rest. Although the length of these phases varies by the individual, hair typically grows for two to three years and rests for three to four months before falling out, thus restarting the cycle.
Identification
Telogen effluvium occurs when hair prematurely enters the telogen or resting phase. This causes more than the average number of hairs to fall out without immediate regrowth.
Causes
Telogen effluvium is triggered by severe physical or emotional distress. Some causes include surgery, excessive weight loss and illness.
Recovery
Hair typically returns to its normal growth pattern once the cause of the condition is resolved.
Fun Fact
Mono is commonly known as the kissing disease, because the virus that causes it can be passed through saliva. However, mono is also transmitted through sneezing, coughing and holding hands.