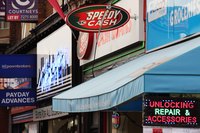 The high fees associated with payday loans cannot be used to lower your personal tax bill. That puts them in good company -- most forms of interest aren't deductible for Internal Revenue Service purposes. For most taxpayers, the only deductible interest payments are those associated with a mortgage, a student loan or investment income.
No Personal Interest
Personal interest payments are not deductible, as the Tax Reform Act of 1986 eliminated these deductions. Payday loan interest falls into this category, as do credit card interest and auto loans. The Treasury Department's rationale was that deducting personal interest encouraged excessive spending, though the deduction also reduced government revenues by slimming down taxable income.
Business Use
If your payday loan was for your business, the interest expense may be deductible. However, because most businesses have alternate means of financing, you'll need to keep records that show the payday loan was strictly for that business and not personal use. One example might be a payday loan to cover payroll expenses. If you can show the funds were borrowed, placed into a business account and immediately disbursed to pay employees during a period of slow sales, the IRS could consider that a legitimate expense and allow the deduction.