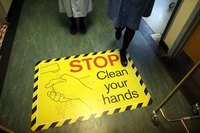 The genus Staphylococcus is one of the most frequently encountered groups of bacteria found on and in the human body both as a colonizer and as a pathogen. The two most common species in the genus are Staphylococcus aureus and Staphylococcus epidermidis. Though both are staphylococci, there are some significant differences.
Coagulase
This simple test shows the organism's ability to produce the enzyme coagulase. In the laboratory the bacteria is added to rabbit plasma and incubated. The tests are read for the presence of a clot. Staphylococcus aureus is positive for coagulase while Staphylococcus epidermidis is negative. The ability to produce coagulase is also a virulence factor since it enhances survival of Staph aureus in tissue.
Colony Morphology
The growth of each organism on sheep blood agar shows two very distinct colony morphologies. Staphylococcus aureus is a large, smooth and slightly raised colony that usually produces beta-hemolysis. Many colonies also show a golden-yellow pigment on sheep blood agar. The colonies of Staphylococcus epidermidis are smaller, gray-white and non-hemolytic. Some strains of the organism can be sticky and adhere to the agar.
Virulence factors
Virulence factors are those characteristics that make a bacterium pathogenic, or disease causing. S. aureus not only produce coagulase but they also produce other enzymes, hemolysins and toxins. S. epidermidis main virulence factor is its ability to produce "slime". This gives the bacterium the ability to produce biofilm on intravenous prostheses like shunts.
Disease
Staphylococcus aureus is a well known pathogen and can cause a plethora of diseases. It can cause superficial infections such as boils and impetigo, and systemic infections like pneumonia and wound infections. S. aureus also produces a variety of toxins that can cause such divergent intoxications such as food poisoning and toxic shock syndrome. Staphylococcus epidermidis has generally been considered to have little significance in causing infection, however it is increasingly being implicated in some infections.
Antibiotic resistance
Staphylococcus aureus is notorious for it's resistance to antibiotics. Methicillin Resistant Staphylococcus aureus (MRSA) is frequently seen in both hospital and community acquired infections. There has even been some cases of vancomycin resistance in S. aureus. This is particularly troublesome since vancomycin is often the last resort for treatment. Staphylococcus epidermidis, not known for antibiotic resistance, is starting to show resistance traditionally not seen.