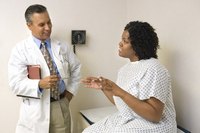 Gastroesophageal reflux disease, or GERD, can cause a dry cough or more severe symptoms such as chest congestion and lung irritation that may become serious enough to trigger asthma, bronchitis or pneumonia, according to the Asthma Center.
GERD Definition
Gastroesophageal reflux disease is a chronic condition where stomach acid refluxes, or backs up, into the esophagus or sometimes the lungs, causing various symptoms and other health problems.
Connection Between GERD and Lung Problems
A study published in 2008 in the European Journal of Clinical Investigation identified the link between reflux disease and asthma. The study was done by Duke University and involved mice having stomach acid inserted into the lungs, resulting in the mice developing the same immunological changes displayed in human asthma patients.
Prevention
Many lifestyle changes can prevent or minimize reflux disease, such as eating smaller meals, not wearing clothing that is binding around the waist, avoiding tobacco, alcohol and caffeine especially near bedtime, not lying down immediately after meals, or propping up after meal time, avoiding constipation and maintaining a health body weight.
Treatment
If the lung irritation is serious enough to involve asthma symptoms, the asthma medications theophylline and oral corticosteroids should be avoided if possible as they can worsen reflux symptoms. Both lung symptoms and reflux symptoms must be managed however.
Warning
If asthma symptoms require medications that would worsen reflux disease, stronger medications than just antacids may be prescribed for the reflux. In severe cases, surgery for the reflux may be indicated.