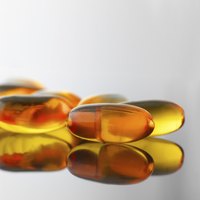 When cleaning up your diet and making healthy habits, you might consider supplementation. While supplements aren't essential by any means, and you shouldn't take them without consulting a doctor, supplements can act as nutrient "insurance," so you're covered in case your diet falls short. Omega-3 supplements help provide essential fats lacking in many Americans' diets, but multivitamins typically aren't as useful if you already eat healthy.
Learning About Omega-3
Omega-3 fats can help lower your risk of heart disease by helping decrease triglyceride levels. Pregnant and breast-feeding women need omega-3s to help with normal neurological development of the fetus and nursing infant. The three types of omega-3 fats are EPA and DHA -- which are present in oily fish -- as well as ALA, which you'll find in nuts and seeds such as flaxseeds and walnuts. EPA and DHA are the two types that you really need, as your body finds it difficult to convert ALA into a usable form.
The Basics of Multivitamins
In the U.S, most multivitamins contain 100 percent of your recommended daily allowance of at various nutrients including manganese, molybdenum, zinc, chromium, copper, iodine and B vitamins. While this sounds potentially promising, you can get all these from actual food. Therefore, multivitamins may only be beneficial if for some reason you're not eating a balanced, varied diet.
The Importance of a Healthy Diet
Getting the recommended intakes of both omega-3 and your vitamins and minerals should be doable through your diet alone. You need around 250 milligrams of EPA and DHA each day, which equates to eating around 8 ounces per week of oily fish, such as salmon or sardines. Likewise, adding a multivitamin into your diet is unlikely to bring about any substantial improvements in health, notes Miriam Nelson, director of the John Hancock Research Center at Tufts University.
Concerns and Considerations
You might require an omega-3 supplement if you're vegetarian, as most vegetarian foods don't provide adequate EPA and DHA. Additionally, those with a history of heart disease may benefit from a higher omega-3 intake, which would make a supplement an easier way to consume enough omega-3. If you simply don't like fish, fish oil supplements may be an alternative way to get omega-3s. Provided you eat a balanced diet containing plenty of fruits and vegetables, whole grains, lean proteins, dairy and healthy fats, you may not need a multivitamin unless advised otherwise by your physician. Always check with your doctor before introducing new supplements, especially if you're on medications, because fish oil can interact with some prescriptions. Overdoing the multivitamins can cause stomach upset, while too much omega-3 in the form of fish oils can reduce immune system activity and lead to nausea and heartburn.