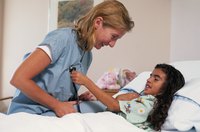 First introduced in 2000 by the Department of Health and Human Services' Office of Minority Health, and then updated in 2010, the National Standards for Culturally and Linguistically Appropriate Services in Health Care work to increase cultural competence in the health care industry. Among these standards is a cultural diversity training recommendation. Since then, a number of federal agencies, including the Joint Commission on Accreditation of Health Care Organizations and the Centers for Medicare and Medicaid Services, have adopted the national standards and require health care professionals to receive cultural competence training.
Two Programs, Two Objectives
A comprehensive training program should focus on both the internal and external aspects of cultural diversity. The internal aspect covers cultural differences within your workforce, while the external aspect looks at caring for a diverse patient population. Because each aspect has its own distinct objectives and goals, the "Manager's Guide to Cultural Competence Education for Health Care Professionals" suggests that you offer workforce diversity and cultural competence training in separate programs.
Workforce Diversity Training
Internal training focuses on the beliefs, attitudes and expectations of a culturally diverse workforce. The emphasis is on teamwork, developing good interpersonal relationships and maintaining effective work performance. If your organization does not already have a training program, the American Hospital Association Workforce Center recommends that you first identify strengths and weaknesses as they relate to multicultural workplace behaviors and expectations within your facility, and then create a program that addresses any gaps. If you need assistance in developing a training program, the Maternal Child and Health Bureau, a division of the Department of Health and Human Services' Health Resources and Services Administration, has a plan guideline that you can follow and modify.
Importance of Cultural Competence
Cultural competence relates to the quality of the day-to-day interactions and relationships between health care providers and patients. Unlike workforce diversity training, which affects patients indirectly, cultural competence affects patients directly. For example, the quality of patient interactions, including communication, determines how well or whether a patient is able to communicate symptoms, follow instructions and participate in his care. It also affects whether a patient feels respected or disrespected, as both an individual and a member of a cultural group.
Cultural Competence Training
Working with a diverse patient population requires ongoing training that provides workers with specific knowledge, abilities and skills. For example, health care workers must understand common cultural barriers to preventing and treating conditions or disease. When interacting with patients, an ability to ask questions tactfully and respectfully and negotiate between a patient's cultural interpretation of a condition or disease and treatment expectations and options is crucial to good patient care. Practical skills such as using a telephone or working with an interpreter are also important.