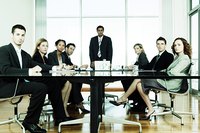 The cereal shelf of a grocery store is filled with brightly colored boxes, cartoon characters and elegant fonts. Each box is specially designed by marketing communications specialists whose goal is to get you to buy their frosted fruity cereal rings over another company's granola chocolately crisps. John Egan, author of the book "Marketing Communications," provides a succinct definition of strategies when he states that a marketing communications strategy is the way in which the company relays information to customers and stakeholders. This process is executed in several ways.
Types of Product Placement
The placement of products is done through the careful consideration and execution of a marketing communications strategist. A marketing communications strategy outlines the most effective way to deliver a product or message to its intended market. For example, the strategist assesses whether money should go toward airing product's commercial during a teenage television drama or whether the money should be spent on a large internet banner located on a teen-friendly website. These strategists decide which communication outlet will reach the largest number of consumers, which medium is most appealing and if the message itself is persuasive.
Identification of Audience
Marketing communications strategy involves pinpointing which audience will be most receptive to the product. Marketers assess this through case study groups, surveys and field research. In some cases, the strategy might include broadening the demographic. For instance, shows such as "American Idol" and "Dancing with the Stars" entice people of all ages to watch their shows by incorporating songs from various decades: Senior citizens will watch "Frank Sinatra Night" on "American Idol," and teenagers unfamiliar with the songs will still watch the same episode to hear their favorite teen idol perform the song.
Tone and Attitude
Marketers also use communications strategy to determine the tone of the product's message. Marketers use slang, shorthand and "text" talk such as "lol" or "lmfao" for tween, teen and college audiences. On the other hand, marketers might be more formal and direct when conveying the same product information to an older audience. Part of the communications strategy decision is determining who conveys the message as well. Tween sensations such as Miley Cyrus and Hillary Duff work well for selling clothes to teenagers, whereas athletes like Steve Nash and Michael Jordan are best used in men's aftershave products.
Identification of Brand and Product
Marketing communications strategists assess how best to differentiate their product from a competitor's. Product differentiation is especially critical if the companies are offering similar, if not identical products. For instance, Apple goes through great lengths to show how its iPhone is different from the Droid despite both phones offering comparable services. Adrian Haberberg and Alison Rieple explain in the book, "Strategic Management: Theory and Application" that the iPod became a style icon and developed a group of loyal followers by emphasizing its product differentiation strategy.
Potential
Enhanced technology is making it easier for marketers to target the appropriate audiences. Internet ads are often generated by subjects related to your internet searches. For example, if you are planning a vacation and browsing cruise websites, when you check your email you will likely see a banner ad for a cruise line. A 2010 San Francisco Chronicle article explains that this type of ad targeting based on personal user data elicits privacy concerns. The article explains that many users of the social media website Facebook do not want their profile information sold to third parties.