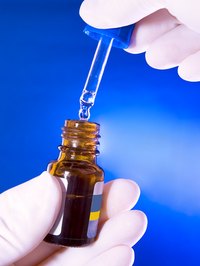 Alpha hydroxy acids (AHAs) are a popular and effective method for treating acne scars, as they reduce redness associated with scarring. In addition, they are natural exfoliants that reveal healthier, fresh skin with use.
Understanding Acne
According to the American Academy of Dermatology, acne occurs when skin's sebaceous glands produce excess oil, also known as sebum, leading to clogged pores. Bacteria can also enter clogged pores, further exacerbating a blemish or chronic acne. Popping or extracting a blemish can lead to permanent scarring or discoloration.
Alpha Hydroxy Acids
Alpha hydroxy acids are natural chemical exfoliants. They sweep away dead skin cells removing the surface layer of skin. With it, pores are unclogged and acne scars are diminished. A fresh layer of skin is unveiled, and becomes the new surface layer.
Glycolic Acid
One of the AHAs that effectively diminishes acne scars is glycolic acid. It is a natural exfoliant that typically does not irritate skin. When a blemish heals, a cluster of dead skin cell residue can be left behind in the form of a light surface scar or red discoloration. When a molecule of glycolic acid comes in contact with skin, it attacks the substance that bonds the dead skin cells together. When the bonds between dead skin cells are broken, the cells can be exfoliated away by the glycolic acid, reducing the appearance of acne scars. Glycolic acid is sold over the counter at drugstores and beauty supply stores. A dermatologist may be able to write you a prescription for it in a stronger concentration.
Chemical Peels
A light (or "superficial") chemical peel, which contains AHAs, is also effective against acne scars. Your dermatologist can perform a light peel in his office. This outpatient procedure requires no downtime, but skin may feel a little sore or raw for a few days post-treatment. Superficial peels are particularly effective at reducing the appearance of acne scars, as they penetrate the surface layer of skin and exfoliate it away. During the procedure, your dermatologist will apply a liquid chemical solution to your face. After a pre-determined amount of time, she will wipe it away, and you'll be left with fresher-looking skin and the appearance of acne scars will be reduced.
Side Effects
Alpha hydroxy acids are acidic in nature and can cause skin irritation. If you are applying an AHA at home, test it first on a small patch of skin in an inconspicuous area, like the inside of your wrist or your forearm. This will indicate if you may have a reaction to the product. If visiting a dermatologist, be sure to share your full medical history, including any allergies or skin sensitivities. Your doctor will be able to give you an idea of whether or not the acid will affect your skin.