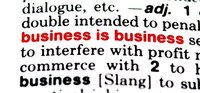 Organizations that exist to generate profits versus those that do not are oftentimes referred to as "profits" and "nonprofits." Profits are stores, corporations, some hospitals and some schools. Nonprofits are charities, foundations, museums and, well, some hospitals and some schools. The definitions of the terms profit and nonprofit vary in accordance with the perspective used.
Revenue
One defining distinction between profits and nonprofits is that whereas the former keep the profits and distribute them among the owners and shareholders, nonprofit organizations must funnel the excess money back into the organization. In other words, while a nonprofit can legitimately generate substantial revenue, it must use the money for sustaining its organizational needs rather than creating personal wealth for its participating members.
Taxation
A nonprofit organization is sometimes defined as one that is free from taxation. Although for-profit corporations commonly employ various legal means to reduce their tax obligations, nonprofits receive tax-exempt status on the assumption that their purposes are charitable or at least beneficial. Of course, an organization must apply for tax-exempt status with the IRS. According to the Entrepreneur website, once an organization qualifies for tax-exempt status with the federal government, it must agree to steer clear from any involvement in political campaigns.
Motivations
As intimated above, profits and nonprofits also define themselves by their motivations. Although for-profit companies and corporations provide vital products and services to their customers, create jobs and even support the endeavors of nonprofits, the bottom line is always the bottom line. Profit-making organizations exist in order to make money. Nonprofits, on the other hand, generally have loftier motivations. According to Dr. Carter McNamara, an authenticity consultant, for a nonprofit the "bottom line is the realization of a social mission, not profits."
Missions
The defining mission of for-profit organizations is to create as much profit as possible for owners and shareholders. Nonprofits, however, tend to have more specialized missions. The NAACP is a nonprofit organization whose mission is to eradicate racial discrimination. Habitat for Humanity, another nonprofit, focuses on providing housing for low-income families. Fighting to end discrimination and build houses for the poor are not profitable endeavors, but these organizations have substantial backing because of their missions.
Employment
As for defining profits versus nonprofits in terms of their respective workers, the popular belief is that the former employ the best in their fields for competitive wages while the latter employ mainly students and retirees whose jobs are more like hobbies. However, "the majority of workers in nonprofit organizations are employed by large health services or educational services establishments." Based on a survey conducted in 2003, the Bureau of Labor Statistics reports that the differences in hourly wages between profits and nonprofits were negligible.