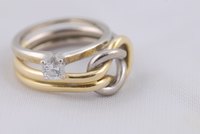 Irish wedding rings are not only beautiful but are symbolic as well. Most of the Irish wedding rings contain text written in Gaelic on the outside of the band with Celtic symbols sometimes on the wedding band. Inscriptions include "Gra Dilseacht Cairdeas," which means love, friendship and loyalty, "Gra Go Deo," which means love forever and "Mo Anam Cara," which means soul mate in Gaelic, according to Thefreelibrary.com.
Types
When choosing an Irish wedding ring, first select the type of metal because not all designs work for all types of metal. Yellow gold, platinum, silver sterling and white gold are suitable. However, silver is gaining popularity and rivals platinum and gold as a favored choice.
Claddagh
The Irish Claddagh ring is rich in tradition and dates back more than 300 years. The Claddagh ring is a friendship or a faith ring. The Claddagh ring can serve as a wedding ring, and sometimes the mother passes the ring to her daughter on the daughter's wedding day.
When a couple is dating, the woman wears the Claddagh ring on the right ring finger. The heart faces outward. Once married, the bride places the ring on the left ring finger and turns the heart to face inward. When worn on the left hand with the heart turned inward, this lets the world know that two hearts have joined forever. If you wear the Claddagh ring on the right hand with the heart facing inward, that means you have love under consideration.
Options
Another example of an Irish ring is the newest interpretation of the Claddagh ring, which stands for love, loyalty and friendship, entwined with Celtic knot work. A Celtic trinity heart ring is another good choice. It features a knot work-filled heart in the middle, flanked by trinity knots. The Celtic knot is very popular among the Irish. A Celtic knot that looks like a flower makes a beautiful ring and will remind you of spring in Ireland.
Meaning
The Celtic knot, common in Irish jewelry, is an endless or mystic knot and refers to beginnings and endings. You cannot see the beginning or the end of the knot, which makes us keep in mind that our spirit is timeless. The Celtic knot is also a reminder of cycles, birth, death and rebirth. The knot can mean an uninterrupted life cycle, explains Whats-your-sign.com. Others think of it as a charm that wards off setbacks and sickness. In the past, a Celtic knot gift meant good luck and hope for longevity.
Considerations
A love knot ring, which would be ideal for an engagement ring, emulates two souls bound by everlasting affection and love, intertwined and never-ending in a silver design.