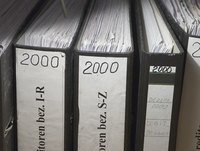 In accounting, principles and guidelines of bookkeeping are set by GAAP, Generally Accepted Accounting Principles. These principles and guidelines set up for businesses are in place for many reasons; one of these reasons is called the principle of consistency, which requires businesses to handle affairs a certain way to avoid possible misinterpretations of financial records.
GAAP
Generally accepted accounting principles (GAAP) govern the way accounting records are handled. GAAP is an organization that determines strict regulations and procedures of accounting methods which businesses use. Among the many principles outlined by GAAP, one very important one is the principle of consistency. This principle is designed for keeping accounting records maintained in the same ways from year to year.
Periods
Certain accounting methods are determined by a business; and when the business chooses a method, the method is not changeable until the following year. An example of this is the fiscal calendar year used by a business. A fiscal year is a one-year period, but it doesn't necessarily start on January 1. A fiscal year starts on any date a company chooses; however, the date chosen by the company must remain the same from year to year. If a company decides to change its fiscal year dates, it must gain approval through the IRS.
Methods
The consistency principle also requires business owners to use the same methods, year to year, of record keeping for all transactions. A common example is the method businesses use to account for inventory. Two methods are offered: the cash method and the accrual method. A company is required to use the same method year to year, unless a valid reason for changing methods is determined. If so, a business changes methods, and this is noted on its financial statements. One reason a company may change its accounting method is because it has grown significantly, and using the cash system no longer works. In this case, the company would change to the accrual system. On the other hand, a company that uses the accrual system may decide to change to the cash method for simpler accounting for the business.
Financial Statements
One primary reason the consistency principle is in place is to avoid manipulation of figures on a company's financial statements. Changing accounting methods often can produce misleading financial statement information. The principle of consistency requires the same methods used continuously to keep information accurate and substantive.
Notes
Whenever a company changes an accounting method, it is clearly noted on its financial statements with a detailed explanation as to why the method was changed. By requiring this, misinterpretation of information is avoided, and readers of the statements understand the purpose for the change and take this into account when evaluating financial information of the company.