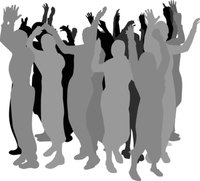 The main distinction between credit unions and other financial institutions is the ownership. Since the ownership is different, the business philosophies and objectives are also different. Credit unions are organized as not-for-profit cooperatives and are regulated by the National Credit Union Agency. The owners are its "member customers." Other financial institutions are organized as for-profit entities and are regulated by the Federal Deposit Insurance Corporation. The owners are stockholders or private individuals.
Business Philosophies and Objectives
Financial institutions organized on a for-profit basis focus on making a profit in order to provide a reasonable return on the owners' investments. The primary function of credit unions is to promote thrift and sound financial health among the membership. Although credit unions must be profitable in order to survive in the competitive market, profits are returned to the members in the form of lower rates on loans and higher rates on savings.
The Board of Directors
Composition of the board of directors presents another difference between credit unions and other financial institutions. Most financial institutions elect a board of directors on a "one share, one vote" basis. The stockholder who owns, say, 73 percent of the outstanding shares, gets 73 percent of the votes. Credit unions elect their boards of directors on a "one member, one vote" basis regardless of the amount of money a member may have invested in the credit union. These boards of directors come from the ranks of the "experience-qualified" membership and serve on a volunteer basis, unlike the hefty fee-for-service board members usually collect in "for-profit" institutions.
Services Offered
Credit unions compete with for-profit institutions by offering most of the same services found at a typical bank with lower rates for auto and consumer loans (some credit unions also offer mortgages) and higher rates for saving and other financial investment products. The services, however, frequently have different terms to describe the same service. Where other financial institutions have savings and certificate of deposit accounts, credit unions have share savings and share certificate accounts to describe the same services. Other financial services offer checking accounts. Credit unions offer share draft accounts, which allow members to "draw" on their shares. Credit unions typically charge less in fees for services such as ATM usage; service charges for share draft accounts and penalty fees for overdrawn checks.
Personal Attention
Unlike other financial institutions, most credit unions offer free financial counseling from their staff to members on a personal basis pursuant to their mission of promoting thrift and sound financial health. Thus, personal attention is one of the hallmarks that separate credit unions from other financial institutions.
Member Support
As non-profit cooperatives, credit unions are wholly dependent upon the support and patronage of their members. Credit unions combine the assets of members into pools to provide lower-cost loans and other member services. In the absence of member support, credit unions could not exist. This is why credit unions have traditionally promoted themselves as being membership oriented, providing excellent service and personal care.