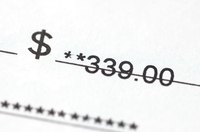 A pay stub is also called a pay advice, pay slip or a pay/wage statement. Without one, it can be difficult for the employee to understand how he was paid, particularly if he gets paid hourly. When a pay stub is required, it should include some specific data.
Laws
The Fair Labor of Standards Act (FLSA) sets the federal minimum wage, overtime and record-keeping regulations. According to the U.S. Department of Labor, under the FLSA, employers must maintain accurate payroll records but are not required to give employees pay stubs. Many states have their own wage laws that require the employer to give employees pay stubs. If state law requires it, the employer must comply.
Required Data
The pay stub data requirement varies by state. Still, a pay stub is a breakdown of the employee's earnings and deductions for the pay period. Consequently, typically it reflects the employee's name, pay period start and end dates; pay rate; hours worked in the pay period, such as regular and overtime hours; statutory deductions and amounts withheld, such as taxes and child support; voluntary deductions and amounts deducted, such as health benefits and retirement contributions; and gross income (before deductions amount).
The employer does not have to include work hours for salaried workers, since they are usually paid a set wage each pay period.
Other Data
The employer may include other payroll data on the pay stub, even if state law does not require it. This includes his Employer Identification Number (EIN) and address, the employee's ID or department number, the last four digits of her Social Security number, net pay, specific pay rate and wages associated with hours worked. For instance, along with stating the number of overtime hours worked, he may also include the overtime pay rate and overtime wages.
Many employers include deduction year-to-date (YTD) data on the pay stub. This includes the entire deductions paid so far into the year, such as total federal income tax withholding, or total retirement contribution.
Abbreviations
The employer may abbreviate data on the pay stub. The abbreviation type varies by employer. More commonly, federal income tax withholding is shown as FED; Social Security tax as SS; and Medicare as MED. Notably, the latter two might reflect as FICA (Federal Insurance Contributions Act) taxes and Social Security tax might show as OASDI (Old-Age, Survivors, and Disability Insurance). Retirement contribution is often abbreviated based on the plan type, such as 401(k) or Roth; medical insurance as MED; dental as DEN; and short-term and long-term disability as STD and VTD, respectively.
Considerations
The employer can check with his state workforce agency (Department of Labor) to know if he should give employees a pay stub. If not, but employees would like to receive one, they can speak to the employer and explain that receiving one would help them to better understand their paycheck.
If the employer violates state law by not issuing employees a pay stub, the latter can alert the local workforce agency.