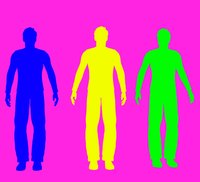 Diversity is often looked at as a force that creates inclusion, growth, achievement, camaraderie and equality for people from all backgrounds within the workplace. It changes workplace composition and therefore impacts organizational culture. There are many studies devoted to investigating both the positive and negative impacts of diversifying the workplace. The realization that diversity involves not only mixing races in one place, but integrating cultures, has created new understandings about the benefits of diversity in the workplace.
History
Although the workforce, for many years, has been made up of different types of people, the Civil Rights Act of 1964 opened the door for the U.S. workforce to diversify in ways that have continued to be modified. The term "diversity" encompasses more people and has become more meaningful. Employees hired under the protective arm of Affirmative Action programs that stemmed from that Civil Rights Act find comfort in knowing that their presence in the workplace is protected and viewed in a positive way.
Identification
Diversity is identified on many levels. On a primary level there is gender, age, race, and ethnicity or language. These are basic divisions of people with obvious differences. On a secondary level there are more detailed areas of differences such as religion, sexual orientation, education and marital status. Often these secondary areas are not as easy to identify, yet can greatly affect working conditions. These added areas of diversity are what is considered to be the human capital index of a company's workforce, or worth of a company based on its level of diversity.
Considerations
Diversity hiring can cause a combining of resources that strengthen a company's operational strategies. In the instance of racial diversity, diversity teams and cohorts encourage new innovations through the differences between the members. Managers should accept that everyone on their team fits some level of diversity and be willing to have open communication with each member of their workforce. By including everyone, this promotes togetherness and encourages trust and hard work among the workforce.
Effects
Diversity is designed to create positive opportunities for organizations. Managed properly, diversity creates greater innovation, or sharing of ideas, problem solving through different viewpoints, and better company performance through people bringing differences together for the good of the company. Customers, clients and investors are drawn to companies that have diversified on both primary and secondary levels. A diverse workforce can be a hard working and highly competitive workforce, one with the potential to reach clients and potential investors in ways that a non-diverse workforce cannot.
Benefits
Some benefits of diversity are that it creates unique opportunities for innovation and problem solving, it engages new cultures and increases social responsibility and it increases a company's worth through a gain in market share.