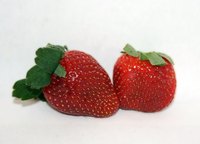 The strawberry diet has become popular in the 2000s with celebrity fans like Victoria Beckham and Britney Spears all jumping on the bandwagon. In 2004 Britain's Daily Mail newspaper reported that Posh Spice was only eating strawberries. "She... turns away all the great breakfasts and salads that everyone else tucks into. Most days she has only one meal and that is strawberries," the paper quoted an observer as saying. The strawberry diet can be used as a way to achieve rapid weight loss and as a slower, healthier diet plan in conjunction with other foods.
Nutritional Information
According to Woman's Passions website, strawberries are said to help strengthen the immune system, metabolism, cardiovascular system and even provide your face and body with an anti-aging boost of nutrients. Strawberries contain these vitamins and minerals: calcium, iron, magnesium, phosphorus, potassium, sodium, zinc, copper, manganese, selenium, vitamin C, thiamin, riboflavin, niacin, pantothenic acid, vitamin B6, vitamin B12, folate, vitamin A, vitamin E, as well as 18 amino acids, according to The Fruit Pages website.
Long-Term Weight Loss Diet
A healthy weight-loss diet involves combining strawberries with a diet of fish and vegetables. You can either follow a strict diet plan or create your own recipes as you go along. Great Home Remedies.com recommends that you create meals with strawberries as the main ingredient. For example, you could have strawberries with asparagus, chicken or yogurt.
Strawberry Diet Plan
Great Home Remedies.com includes some diet plan recommendations: Breakfast: Strawberries with either a boiled egg, oatmeal, yogurt or a glass of low fat milk. Brunch: Cheese sandwich. Lunch: Vegetable soup, chicken or fish with a salad and a bowl of strawberries for desert. Snack: Strawberries with jelly or sugar. Dinner: A strawberry fruit salad with grilled tofu. Bed time snack: Low-fat yogurt.
Britney's Strawberry Diet Plan
According to PopDirt.com, Britney requested the following strawberry meal on a British Airways flight from London to Los Angeles: Strawberry yogurt, strawberry platter, strawberry dessert and a strawberry herbal tea. A passenger reporter in Britain's Sunday Mirror newspaper reported that, "Her 15-plus entourage made such a fuss about it I began to wonder if Britney's people knew something about strawberries I didn't."
Strawberry Fast
A two- or three-day detox diet of just strawberries is also known as a strawberry fast. This concentrated supply of the strawberries' vitamins and minerals could stimulate your digestive tract and rejuvenate your body but will also deprive you of other important nutrients if carried out for too long.