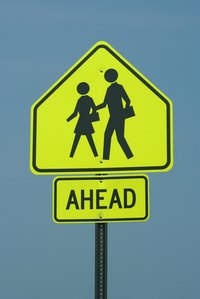 Texas motorists must abide by the state's financial responsibility law, which requires that people pay for the accidents they cause on Texas streets. Obtaining automobile liability insurance is the most practical way for driver's to meet law requirements. Liability insurance pays for the medical expenses and property damage of another driver as a result of the at-fault driver's negligence. To satisfy financial responsibility, minimum liability limits imposed by the Texas Department of Insurance must be met on all insurance policies. Failure to meet the requirements and maintain insurance coverage could result in fines, license suspension or vehicle impoundment.
Bodily Injury Liability
Bodily injury liability covers the medical expenses suffered by another party as a result of an at-fault accident. Liability coverages may also cover funeral costs, lost wages, pain and suffering, as well as punitive damages resulting from an at-fault accident. The state of Texas requires that motorists carry at least $25,000 per person and $50,000 per accident for bodily injury liability.
Property Damage Liability
Property damage liability covers repair or replacement costs for damage to another party's vehicle or personal property in the event of an at-fault accident. Personal property may include the other party's home, fence, mail-box or bicycle. The minimum required limits for property damage in Texas is $25,000 per accident.
Personal Injury Protection
Texas insurance companies are required to offer motorists personal injury protection coverage of at least $2,500. Personal injury protection covers medical expenses for the driver, family members or non-family members in the insured's vehicle at the time of the accident. Coverage as a pedestrian is also included here. Lost wages are covered up to 80 percent. Personal injury protection pays regardless of who was at fault for an accident.
Uninsured Motorist Coverage
Uninsured motorist coverage protects an insured in the event they are struck by a driver that has no liability coverage. If medical expenses or property damage results from a collision with an uninsured driver, the not at fault party has the right to collect damages under their own policy's uninsured motorist coverage. Texas minimum limits for uninsured motorist coverage is $25,000 per person, $50,000 per accident for bodily injury and $25,000 for property damage.
Collision Coverage
If a motorist is involved in an at-fault accident resulting in damage to his vehicle, he is liable for paying such damages. Auto insurance companies offer an optional collision coverage that will repair or replace an insured's vehicle in the event of a loss after deductible requirements have been met. A deductible is a small portion of the cost to repair the vehicle the insured pays out of pocket for the insurance company to pay remaining repair costs.