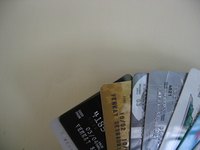 If you are trying to buy a home or a car or just trying to extend a line of credit, your credit report will be pulled and scrutinized. Knowing what is on your credit report is important but understanding how this information relates to your credit score is key. An account in collections can mean trouble, but is it better or worse for the account to be written off?
Definition
A write-off is the process by which a company changes the value of an asset from a positive to a negative. In most cases, the company will eliminate the asset altogether showing it as a loss. A write-off takes place after six months of non-payment on a credit card. The company sends the account to a third party collection agency who will try to collect as much of the debt as possible.
Write-off vs. Charge-off
A write-off is similar to a charge-off. The main difference is that a charge-off is usually a loan that can't be collected. A write-off is often real property, such as a building, vehicle, or home that has lost its value.
Positives of Write-Off
Though a write-off can be bad for your credit score, there are some positives. When a company chooses to write off a debt, they will usually stop charging high interest, late fees and over the limit fees. Once an account reaches a collection agency, this may include the opportunity to settle the debt at a lower cost.
Negatives of a Write-Off
A written off account in collections takes a toll on your credit score because the debt is normally listed twice, once for the original creditor and the second time by the collection agency. A write-off does not normally release a consumer from his responsibility to the debt.
Avoiding a Write-off
If it seems impossible to keep up with the agreed upon payment arrangement, contact the lender as soon as possible before a write-off takes place. Request an easier payment schedule, often the lender prefers to lengthen the loan than have to write it off.
Improving Your Credit Score
When calculating your credit score, the most heavily weighed information comes from the original lender and not the collection agency. If at all possible mend the issue for the full amount with the lender first, this will improve your credit score when the account balance it reset to zero. If the account balance with the original lender reflects as zero owed on your credit report then your score can no longer be improved by that lender. In this case, going to the collections agency and paying off the debt will not help your credit score.