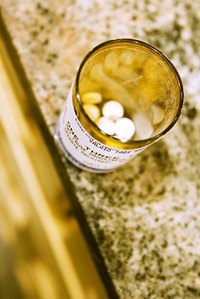 Nebicard, also known as Nebivolol, is a drug that is used to treat individuals who have high blood pressure. It is often sold under the brand-name Bystolic and affects the circulation of the heart. Use of this drug may lead to a variety of side effects depending on the particular user and size of the dose.
Identification
Nebicard is a prescription drug that is classified as a beta-blocker. Nebicard works specifically by slowing heart rate and thus lowering blood pressure. According to Drugs.com this "...helps the heart pump more efficiently, and reduces the workload on the heart." Other uses of Nebicard may be determined by your doctor.
Common Side Effects
Users of Nebicard have reported experiencing the following common side effects: mild insomnia, stomach pain, headache, fatigue, nausea, and dizziness. Though less serious than other side effects, these common side effects may be cause for concern if they worsen or persist. In that case stop using Nebicard and contact your doctor.
Severe Side Effects
Severe side effects than can arise as a result of using Nebicard include severe chest pain, irregular heartbeat, fainting, cold or blue fingers, weigh changes, vision changes, easy bruising and bleeding, skin irritation, and unusual tiredness. Seek immediate medical attention if any of the preceding side effects arise.
Drug Interactions
Nebicard can interact with a variety of medications. Always be sure to consult a full list of possible drug interactions before regularly taking Nebicard. Common drugs that Nebicard can react negatively with include Aspirin, Celexa, Effexor, Gleevec, Hyzaar, Seroquel, and Sinemet.
Warning
Use extreme caution when operating a car or other heavy machinery as Nebicard can cause extreme dizziness. Individuals with diabetes should discuss use of this medication with their doctor as Nebicard can lower blood sugar levels. Use with caution in children and the elderly.