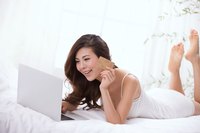 The length of time a closed account remains on your credit report varies. Generally, an account with a positive history remains longer than negative account information, which is beneficial if you've had trouble.
Positive Account History
Payment history affects 35 percent of your Fair Isaac Corporation, or FICO, score, according to Bankrate. Therefore, it's a plus that accounts with no negative information remain on your record for 10 years after you close them. Your history of on-time payments is something that has a big impact on your score. If you have a positive history, it is actually better in many cases to not close an account. You benefit on your credit utilization ratio, which affects 30 percent of your score, when you have a zero balance on an open account.
Negative Account Information
The other side of this coin is that account delinquencies remain on your report up to seven years after the first missed payment. While seven years seems like a long time, you can begin to rebuild your credit through positive behaviors with other credit accounts. Over time, the negative effects of your closed account and delinquency lessen. Also, if you pay the balance on a charge-off account, this is noted on your report. Lenders see that you paid the delinquent amount on the closed account, and that reflects well on you.