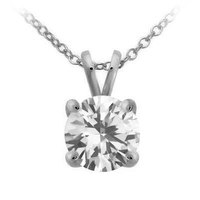 The most classic gift for a special occasion is a jewel. Both men and women have enjoyed wearing jewelry for centuries. One of the most appreciated and desired gemstone is the natural diamond, but as it is rare and expensive, not everybody gets to wear one. There are also laboratory created gemstones that simulate diamonds, and briolite is one of the best.
Definition
Briolite is a synthetic gemstone simulating diamonds. The method used to create briolite is called "radio frequency induction," and the cut is made mechanically. It is considered one of the best diamond substitutes on the market as it matches the natural diamond's aesthetic properties. It also refracts light very similar to a diamond, though it is more dense and heavy. The difference between briolite and natural diamonds can only be seen by a trained eye.
Use
Briolite is used for any type of jewelry (like rings, earrings, bracelets and necklaces). It is set only in precious metals like sterling silver, gold and white gold. The advantage of buying a briolite jewel is that it costs less than a natural diamond, but it looks exactly the same. Just like natural diamonds, briolite can cut glass--one thing that most diamond simulants can't do. Though it is more dense and heavy than a diamond, a briolite carat has the same size as a natural diamond carat.
The Cut
The cut influences directly the light refraction of the stone. The first step in cutting a briolite stone is done on a computer. A 3D model is created with the use of an optical measuring device. Then a machine cuts the gemstone with computer-aided lasers. This makes the cutting very precise and flawless. It is nearly impossible to achieve such an ideal cut by hand faceting (the method used for natural diamonds).
The Color
The color is the filter of the spectrum of light emitted by the gemstone. Inside it, the light is separated into a spectrum of colors and is emitted as fire (colored flashes reflected back from inside the stone). A colorless stone doesn't filter or reduce the emitted spectrum of light, while colored stones reduce it to minimum. The color is graded from D to M (where D is colorless and M is faint yellow).
The Clarity
The clarity is determined by internal and external flaws (like scratches, trace minerals, clouds, feathers and black spots). The flaws block the reflection of light and make the gemstone more or less shiny. All natural diamonds have flaws, which are created during the gemstone's formation in the earth's crust. Briolite is often marked as flawless inside and outside, as it is created in a laboratory under perfect conditions.