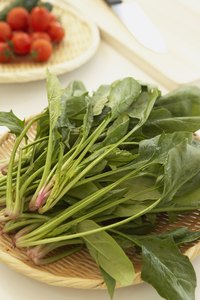 Whether you're trying to eat better to improve your looks or health, you need to fill your diet with highly nutritious foods. Foods that fall into this category are low in calories and chock-full of vitamins, minerals, fiber and other nutrients that promote good health. You can find highly nutritious foods in each food group.
Nutrient-Rich Veggies
When it comes to health and nutrition, all vegetables make good choices. But if you're looking to get the most nutrient bang for your vegetable buck, you can't go wrong with cruciferous vegetables and leafy greens. The Centers for Disease Control and Prevention considers these types of veggies to be powerhouses, rich in a variety of nutrients such as vitamins A, C and K, B vitamins, potassium, iron and fiber. Cruciferous vegetables include broccoli, cauliflower, cabbage and collard greens. Highly nutritious leafy greens to add to your alimentary repertoire include spinach, kale, leaf lettuce and romaine lettuce.
Healthier Fruits
Like vegetables, any fruit you eat is going to give your body nutrients that support health. But some fruits are nutrition standouts. Apples, for example, are always available and are a good source of fiber and rich in antioxidants that may lower your risk of diabetes, according to a 2008 article published in Canadian Living. Like apples, bananas are also easy to find and are high in vitamin B-6 and potassium. Eating more potassium-rich foods may help lower your blood pressure. For antioxidant power, go for berries, including blueberries, raspberries and strawberries. According to Oregon State University Extension, of all the fruits, berries contain the most antioxidants, which are nutrients in foods that protect your cells from damage by free radicals and may help prevent chronic disease.
Super Grains
When it comes to grains, whole grains make healthier choices than refined grains. Quinoa is a highly nutritious whole grain. Unlike most other grains, quinoa is a complete source of protein, which means it contains all of the essential amino acids. It's also rich in potassium and gluten-free. Oats also make a healthy whole-grain choice. Oats are a good source of soluble fiber, which is the fiber that helps lower cholesterol.
Powerful Proteins
Most Americans get their protein from meat, poultry and eggs, according to the 2010 Dietary Guidelines. But if you're looking for highly nutritious protein choices, eat more fatty fish such as salmon and tuna, legumes such as lentils and beans such as chickpeas. Salmon and tuna are rich in omega-3 fats. Eating more omega-3-rich foods like fatty fish may lower your risk of heart disease, according to the Dietary Guidelines. Legumes are not only rich in protein, but also high in fiber, folate, iron and potassium, and are considered both a protein food and a vegetable.
Calcium-Laden Dairy
Milk and other dairy foods are rich in calcium, which is important for bone health. But for a highly nutritious choice, go for nonfat yogurt. Not only is it rich in calcium, but it's also a good source of protein, vitamin D and potassium. Nonfat yogurt also has an added benefit of being a good source of probiotics, which are gut-friendly bacteria that may boost your immune health and aid in the production of B vitamins. Look for yogurt with the label "Live and Active Cultures" to make sure you're getting the most benefits.