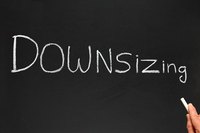 Downsizing has become a popular (or is it, unpopular?) topic in recent years. Like many other aspects of the business universe, downsizing has neither totally negative nor positive effects. Your perception usually depends on your role, as employer, employee, investor, vendor or personal situation.
Function
The function of downsizing, regardless of the purpose, is to reduce the number of employees at a company. While the function is always the same, the purpose and process can take different forms. Reducing staff is often related to saving money, but there may be additional or other reasons for downsizing.
Types
A company can downsize using one process or a combination of types of activities. The manufacturing industry historically uses employee layoffs to accomplish the goal. Layoffs imply that the company, because of decreased demand for its products, does not need its current number of employees. However, the implication is that, when demand increases, it will re-employ some or all of the staff that was laid off.
Other common types include termination, early retirement offers, or even "spin offs" (creating a new smaller company from the existing corporation to produce or offer products or services). Some companies use a combination of types to reach the employment level they need.
Significance
Downsizing often generates both a positive and negative significance. The negative, employees losing jobs and income, creates the loudest general headlines. Along with the obvious workforce negatives, downsizing implies that the company or the overall economy is having serious problems.
From a corporate and investor prospective, downsizing can be positive. As expenses are cut, companies may increase their net profits and improve operating efficiency. Investors may also believe that company stock prices may rise in the future as bottom line results improve.
Downsizing activities in public companies (with stock available for purchase and sale) has more general significance than similar actions at private companies, since their reporting requirements are less stringent. When many companies choose downsizing, the significance to the entire economy is usually negative.
Misconceptions
Typically, the type of "press" generated puts downsizing in a negative light to the citizenry. The public typically assumes that the company or the economy is in a serious downturn. If enough people believe this, a self-fulfilling prophesy sometimes results, causing the company or economy to suffer further.
This is often a misconception, however. For example, a large manufacturer has invested in new electronics that streamline operations and reduce costs. The company may downsize their human staff to fully enjoy these improved processes. This downsizing, from a company perspective, is a very positive event targeted to make their products better and to increase their profit.
Always look "behind the headlines" to learn if downsizing is the result of poor results, an economic downturn, or simply a company taking advantage of business conditions to improve their already successful operations.
Effects
The effects of downsizing also vary from company to company. The good news: Some employees keep their jobs and their company's bottom line may improve. The bad news: Many now-former employees face serious financial problems. The good/bad news: Those employees who have kept their jobs must take on added responsibilities and duties (usually for no additional compensation) with which they are unfamiliar and/or untrained.
Therefore, remaining employees and company operating efficiency typically suffer, at least in the short-term. The ability of the staff to adapt and the company to help and support them has major effects on the success or failure of downsizing.