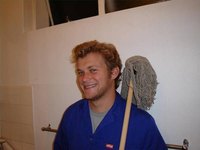 Currently available forms of building maintenance include the unseen tasks that make buildings livable and workplaces productive. Without adequate lighting, heating, air conditioning, or cleaning, such buildings would quickly fail to attract tenants, and before long the vacancies could outnumber the leased spaces. It stands to reason that building managers are very careful when contracting with building maintenance companies since their services---or lack thereof---have a direct effect on the property's overall appearance and profitability.
Features
Forms of building maintenance include janitorial services, basic building repair, grounds keeping, electrical and plumbing repairs, after-hours building access to authorized personnel, pest control, and ancillary services. The scope of building maintenance services performed depends directly on the agreement made by the building owner or management company, and the maintenance company.
Identification
Companies providing the services offer different forms of building maintenance. The size of the company, the number of clients, the licenses held by subcontractors or employees, and also liability insurance coverage usually determine the array and kinds of maintenance such as business provides. For example, a husband and wife entrepreneurial team may focus on the janitorial aspect of building maintenance and oversee a small crew of workers, while a large company---such as BMS Building Maintenance Service (a link is provided in the resources section)--might focus on serving Fortune 500 company office spaces and offer a far greater catalog of available options.
Considerations
Consumers choosing between two or more maintenance companies that offer similar forms of building maintenance find that checking the safety records of the companies is helpful. It is a surefire way to assess their training and therefore also quality of contractors. Depending on the kind of building for which maintenance services providers are bidding, workers need to be aware of industry specific regulations and also guidelines. For example, while all maintenance workers need to be aware of accident prevention, ladder safety, and the use of personal protective equipment, those who provide maintenance services in hospitals also need to be trained in the hazards of blood borne pathogens.
Choosing the Right Forms of Building Maintenance for You
Once you have chosen the service provider, you select the forms of building maintenance you want to receive. You may do so by meeting with a company representative and requesting a service proposal that not only makes suggestions with respect to the kinds of building maintenance you should consider, but also highlights the rationale for the suggestions. Building owners with an eye on becoming more environmentally friendly might consider implementing an additional checklist to be incorporated in the maintenance contracts---such as it is suggested by Dominion (a link is posted with the resources)---which makes maintenance personnel responsible for energy conservation that varies, depending on the seasons.
Quality Management
No matter which forms of building maintenance a company offers, it is crucial that each aspect of the service undergo strict quality management. For the maintenance company this means providing the exact service they promise to provide--and doing so consistently. This is sometimes considered the downfall of small businesses consisting of one or two owners who work with crews made up of subcontractors hired from day labor agencies. Large companies usually shy away from subcontracting and instead use employees to fulfill their building maintenance contracts. Consumers find that the use of checklists---such as the one suggested by the EPA for local school districts (a link is placed in the resources section)---helps to objectively assess the quality of services a maintenance company provides.