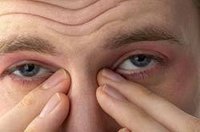 Watery eyes often result from a symptom from some type of allergies. Sometimes it can also be because of a sinus infection, headaches, irritations, or even problems with eye-wear such as contacts. If you suffer from any kind of seasonal, pet, or indoor allergies though, most of the time your symptoms will begin with watery eyes. Tearing can happen if your eye is producing too much or too little lubrication.
Identification
Tearing of the eye is also a medical term known as Epiphora. It happens when the tear duct produces too much lubrication of the eye. Tearing helps our eyes washing away foreign particles that could be harmful.
Effects
As adults age, they may often get watery eyes. Your eyes change as you get older and the fluids change in the way that they produce. When adults get older, the muscles and tendons that make your eye blink, begin to relax which can cause your eye not to lay down completely down. Therefore, your eye will not be able to water like it should. Also, as people age, tear ducts can become blocked as well. Should you believe that your eyes water because of allergies, you should contact your doctor to rule out possible allergens in your home. Often it can be related to pets, dust, or seasonal. If you are a person with dry eyes, you can also get increased tearing in your eyes that often comes with redness and irritation.
Benefits
Although, too much tearing of the eye can be a sign of a problem, eyes do need to have enough lubrication for the eye to be able to wash itself of any debris or matter that may have gotten into the eye. Tearing can also come when someone has begun to yawn, cough, or sneeze. These are all perfectly normal habits and good reasons for an eye to tear up.
Theories/Speculation
Doctors will test several theories to see the cause of watery eyes. They may question sinuses, headaches, environmental issues, and more. He may even test for possible causes of allergens. Doctors will ask about when the watering began and how long it has been going on. Also, the doctor will look for congestion and if you have had a runny nose along with your water eyes. This will give him a better idea on the cause and how to treat your watery eyes.
Prevention/Solution
To help dry eyes or watery eyes, try purchasing artificial tears. Over the counter eye-drops, or antihistamines are good examples of artificial tears. Be sure to contact your physician if you should have increased redness or irritation, pain, or any usual discharges of the eye- as these could lead into further problems and developments and could need further treatment. Sometimes surgery can be needed as a result of watery eyes. Each problem is different, and should be investigated individually. You also should clear your home of any dust, dander, household plants, or possibly any pets that could be causing allergies that could lead to watery eyes.