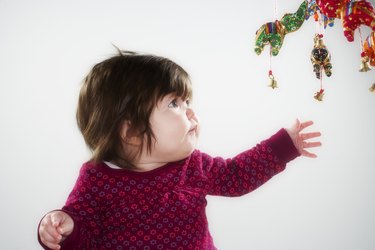 Mobiles can be hung in any room or out of doors as a decorative touch for your environment. The spiral mobile will turn in the wind or forced air, and faceted beads will reflect light. A jewelry artist or bead crafter can make a spiral beaded mobile for a teen, baby's room or for the patio in any variation of color. Small mobiles done in crystal can be ornaments for a Christmas tree or window opening.
Supplies
When preparing to make a spiral mobile, you need to check out your beading supplies. A wire that will hold its shape is integral to the success of the project. Eighteen gauge wire is an appropriate gauge for a sturdy mobile. You can use a smaller, thinner wire for a smaller mobile. Choose 8mm or larger beads that have holes roomy enough to pass the wire through. You need a roll of monofilament and 5 to 6mm beads in matching colors if you plan to have beads cascading from the beaded spiral form. Jeweler's or flat nose pliers are best for bending or crimping beads and wire. Wire cutters and scissors are the tools for cutting wire and monofilament or fishing line. A flat square piece of craft foam and T-pins will be handy for your work surface. It is wise to use safety glasses when cutting wire.
The Spiral
Cut an 18 to 24 inch piece of the wire with heavy-duty wire cutters. Thread a crimping tube on one end of the wire. Push it down the wire about 5 inches. Push the end of the wire through the end of a swivel hook hanger and make a loop. Push the crimping tube back up to encase the end of the wire with the main wire. Use jeweler's pliers to squeeze the crimping tube and lock the wires in place securely to secure the hanger. Coil the wire in a spiral design with the hook hanger at the center. String a series of beads in a color pattern that will work for your project. Keep the last inch or so of the wire open and wrap it between the second to last and end bead. Wrap it tightly to secure the end.
Variations
Place the foam on your work table. Set the coil of beads on the foam. Secure beaded wire in place by pushing T-pins into the foam. Cut several equal lengths of monofilament or fishing line. Secure the monofilament pieces an equal distance from each other down the spiral shape by looping it over the wire and attaching crimping beads or tubes. Thread a series of small beads on each length of monofilament and secure the ends with crimping beads. A mobile can also be made on a metal craft ring. Taper lengths of beaded strands that are attached to the ring. Each strand can be one-half inch longer than the previous one.