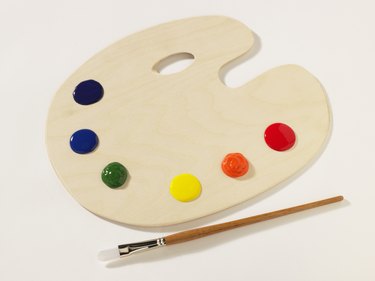 With all of the types of fabric paint available in today's marketplace, the painting cloth is easier and more versatile than ever before. While, in the past, most fabric paints were made solely for light colored fabrics, many of today's paints can be used on darker fabrics.
Preparing the Fabric
Choose your fabric. Washable varieties like 100 percent cotton, denim, muslin, polyester, rayon, silk, and velvet will all accept paint. According to Michael's, the craft store, a blend of 50 percent cotton and 50 percent polyester works best. Tightly woven fabrics work better than loose weaves for detailed designs.
Textile Exchange recommends laundering the fabric in hot water before starting. Removing the cloth's "sizing" makes it easier for the fabric to absorb paint. The hot temperature pre-shrinks it to prevent skewing of the paint design. Do not use starch or fabric softeners because they could affect the color and paint absorption.
Iron wrinkles out of the fabric before beginning. This will ensure easier application and accurate design representation.
Draw or transfer the desired design onto the fabric. For dark fabrics, the best way to do this is with a chalk pencil.
Choosing Fabric Paints
Stampington and Co. recommends using textile or acrylic paint. They can be blended to create additional colors. They advise mixing textile medium into acrylic paints before use to ensure the paint remains pliable.
Look for paints that advertise they can be used on dark fabrics. Most opaque, metallic and pearlescent paints work great for this purpose. Many paint brands like Donna Dewberry, Plaid and Tulip offer both acrylic and textile paints. Other lines such as Jacquard, Lumiere, Neopaqure and Setacolor are specifically make for textiles.
Textile Exchange recommends testing paint on the fabric before using it. If you have failed to get a swatch for this purpose, then perform the test on an area of the fabric that won't be seen.
Dark fabrics can be tie-dyed with bleach or color remover. Using a Clorox pen is an easy way to control where and how much bleach is applied, but regular bleach be diluted 10:1 for the same purpose. Fragile fabrics respond better to color remover like that manufactured by Rit or Carbona. Follow the instructions on the brand chosen.
Completing the Design
Heat0set textile paints if required. This is usually done by running an iron over the paint, using a brown paper insert between the fabric and the iron.
Let the design dry for 24 hours. Using it before it is ready could cause smearing.
Some fabrics like washable silks and velvets may require hand washing. When in doubt, opt for that choice over machine washing.