​eHow may earn compensation through affiliate links in this article.​
Making your own homemade flea killing shampoo is so easy and it really does the trick! This vet recommended solution not only kills fleas, but will also help keep them at bay. Bonus: you probably already have the ingredients in your pantry!
Step 1
Add 1/2 cup of water to a soap dispenser.
Step 2
Add 1/4 cup of white vinegar. The vinegar will help to kill fleas as well and deter fleas from returning. While fleas will be repelled by the smell of vinegar, it won't be detected by human noses.
Step 3
Add 1/4 cup of dish liquid. The dish liquid will help to kill the fleas as well as help the shampoo to lather and clean your pet's fur and skin.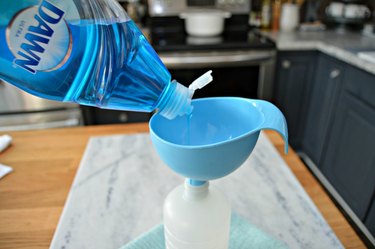 Step 4
Replace the lid and shake well until all ingredients are mixed.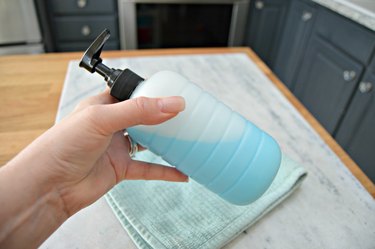 Time to wash your dog and kill those fleas!
Step 1
Thoroughly wet dog's fur and add shampoo. The amount of shampoo you use will depend on the size of your pet. For a small dog, I usually end up using 3 to 5 tablespoons of shampoo. Massage the shampoo into your pet's fur and allow to sit for a 3 to 5 minutes.
Step 2
Rinse out the shampoo. Any dead fleas should wash away when your rinse your pet. If needed, use a comb to remove any fleas that may be stuck to your pet's fur.
Step 3
Dry your pet's fur with a towel.