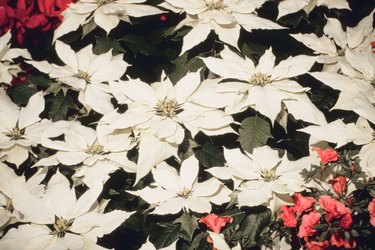 Christmas holiday floral arrangements can include traditional elements of poinsettias and evergreen foliage but can also make innovative use a wide variety of cut flowers, potted plants, shrub greenery and flowering bulbs in hues of white, red and of green. Whether creating lush buffet and dining table centerpieces, jewel-like cocktail table bouquets, or festive mantel displays in traditional or modern styles, you have creative options.
Greenery Based Arrangements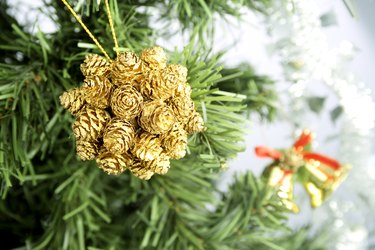 Evergreen tree and shrub foliage gives the look, feel and smell of the Christmas holiday to a home. An abundance of deep green foliage reinforces the holiday mood and provides a sense of lushness. Use pine, fir, cypress and boxwood branches as the basis for sprays instead of traditional filler flowers and greens in vase and composed container arrangements. More elegant traditional greens can also be used in abundance such as Italian ruscus, lemon leaf and camelia. To bring floral decor to eye level or higher, consider making a kissing balls or pomanders to hang from the ceiling or a tall doorway. These can be made with oasis foam globes wrapped in wire and moss and studded with short cut flowers such as roses over a base of holiday evergreens. Stud evergreen wreaths with cut flower stems in red and white to add a custom design interest. Add greenery sprays studded with flowers and shrub berries such as holly or snowberries to mantels, cornices and staircase balusters.
Container Based Plant and Flower Arrangements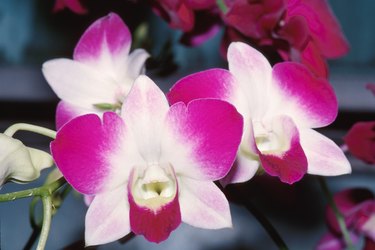 Container plants used in holiday decor have the benefit of being long lived and low maintenance, keeping your holiday arrangements and decor fresh over several days and even weeks. Flowering plants are particularly useful because they can be highlighted singly in a decorative container or massed in larger vessels to create a lush point of interest. Consider using orchids, paperwhite narcissus, white clivia, berry laden holly plants and amaryllis flowers in addition to white and red poinsettias, which are traditional for the holiday. Miniature evergreens are also a charming arrangement idea; they also can be used single or massed for effect. Use five or seven miniature cypress trees in small silver pots lined up in a row or scattered across a mantelpiece to create a miniature winter forest. Or mass the miniature trees in a wide and low container, covering the pots with sheet moss and creating a small forest scape to be viewed from every direction for a unique dining table centerpiece or buffet display.
Cut Flower Composed Arrangements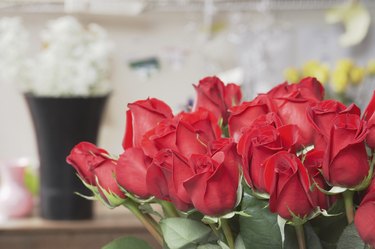 While traditional holiday flower arrangements have consisted of different versions of red, white and green, there are many fresh ways to make Christmas floral compositions. Consider massing arrangements in one hue with little or no greenery, such as deep red roses cut short and highlighted only with sprigs of green boxwood for a lush but still tailored arrangement. All white arrangements with one type or a mixture of white blooms can be both dramatic a festive. It also can be embellished with silver painted or white glittered branches and seed pods. When following the red, white and green mixed arrangement style, make the display seem modern by using unexpected flowers or berries for at least one of the three color elements. An example is red amaryllis with bunches of lime green China berries on a background of deep green camelia or lemon leaf foliage. Or use red roses and white orchids against white and green variegated hosta leaves. Use one or more traditional arrangement colors or flowers with an unexpected choice or two lends a fresh look to the floral design and a fresh perspective on holiday decor.