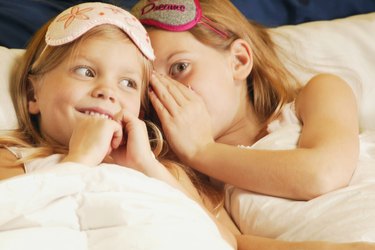 No cleanup, no food prep and no disappointment; plan a hotel party for your teen and let housekeeping and room service carry the burden. You can celebrate your teen's birthday with a night of in-room activities or round out a day of adventure and excitement with a night of luxury in a hotel suite. Ensure the safety and well-being of your teen and his party guests by reserving an adjoining room to chaperone the party without cramping his style.
Pampered Parties
Pamper your teen daughter with a spa-themed party at a hotel. Start in the hotel hot tub or take a dip in the indoor pool before retiring to the room for an all-night spa-fest. Bring along a variety of her favorite treatment supplies, from hand wraps and facials to manicures and makeovers.
Alternatively, make it a themed event, such as a chocolate spa party, and incorporate cocoa facials, cocoa butter cuticle scrubs and cocoa mint foot scrubs, as well as a buffet of chocolaty treats. Maintain the theme with the evening's entertainment, ordering Chocolat on pay-per-view. Instead of do-it-yourself spa treatments, treat the party group to a treatment in the hotel's spa or hire in-room spa services instead.
The Hunt is On
Send your teen son or daughter and guests on a photo scavenger hunt throughout the hotel in search of items such as housekeeping carts, fire extinguishers, exit signs and post cards. Speak with hotel staff ahead of time to let them know about your plans.
Alternatively, if your teenage gal loves to shop, spend the day on a scavenger hunt at the mall before retiring to the hotel. Make a long list of inexpensive items to buy, such as hair accessories, stickers, greeting cards, lipstick and key chains. Give each participant a particular amount of money and send them off to make the most purchases from the list for the least amount of money. Bring the new items back to the hotel for the teens to use, trade or stash for later.
If you're up for a little clandestine party planning, your teen boy or girl can enjoy the surprise. Talk to the parents of your teen's guests ahead of time and keep the hotel sleepover a secret. Create a scavenger hunt around the neighborhood, using the last clue to lead the group to the hotel.
Venturing Out
Instead of sticking close to home for a teen girl or boy's party, a hotel sleepover lets your party group venture out further to neighboring cities to spend the day at a theme park, water park or adventure course before retiring to a nearby hotel in the evening rather than making the long trek home. If you'd rather keep the party activities in one place, look for a hotel that provides a multitude of activities to occupy your teen son or daughter and friends, such as a hotel with an indoor water park or laser tag course, or a ski lodge that offers helicopter tours and snowboarding. After a long day of vigorous activity, let the party group unwind in the hotel with snacks and a late-night movie fest.
Gaming Night
If your teen is a video game fanatic, bring along his favorite gaming console and video games, and turn the hotel suite into the stage for the ultimate gaming championship. Divide the group into pairs and let the winners of each round battle it out for a prize, such as his choice from the room service menu or a gift card to a local arcade or video game store.
Alternatively, rent hotel space or a nearby recreation center room for a basketball or volleyball competition, and then let the group soothe their tired muscles afterward in the hotel pool or sauna. Or, keep the games going afterward with charades, trivia, board games or an age-appropriate round of Truth or Dare in the hotel room before bedtime.