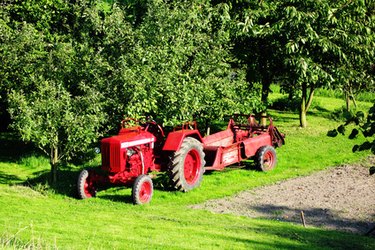 The Perkins A4.248 is a diesel-powered, liquid-cooled four-cylinder engine utilized in Massey-Ferguson and Landini tractors. Perkins Engine was owned by Massey-Ferguson from 1959 through 1998, and Landini was a subsidiary of Massey-Ferguson from 1960 to 1990.
Engine Data
The standard A4.248 is naturally aspirated, with a compression ratio of 16:1. As the name suggests, it is 248 cubic inches in displacement. Its bore and stroke is 3.975 inches by 5.00 inches. A turbocharged version is also available.
The Perkins A4.248 may be paired with an 8F-2R transmission, 12F-2R transmisson, 16F-12R transmission, 18F-6R transmission and others.
Horsepower and Torque
The Perkins 248 generally produces between 55 and 90 horsepower, depending on the vehicle.
The non-turbocharged A4.248 produces a maximum of 80 horsepower at 2,200 rpm and 220.5 pound-feet of torque at 1,380 rpm. With the turbocharger, power increases to 90 horsepower at 2,200 rpm and 239 pound-feet of torque at 1,590 rpm.
In the MF-394 Orchard Tractor, this Perkins engine is rated at 73 horsepower. According to the Tractor Blue Book, in the 2001 four-wheel-drive MF-4225 tractor, the Perkins 248 produces 55 horsepower.
Higher powered Perkins 248 engines are found in the Landini R8880, with a rating of 72.1 horsepower, and the Landini R90 Atlas with a horsepower rating of 79.2 hp.
Tractors Using the Perkins 248
Massey-Ferguson tractors that use the Perkins A4.248 engine include the MF-275, MF-283, MF-290, MF-294, MF-383, MF-390, MF-394, MF-690, MF-4225 and MF-4235.
The Perkins 248 is also used in the Landini DT70F, R70V, DT80GE, R80FP, R85LP, DT90GT, R90, R8830, DT8550, DT8860 and R8880.