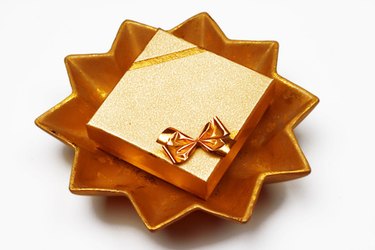 A golden birthday is the special birthday when a person turns the same age as the date of his birth. For example, if your little guy turns 10 on the 10th of the month, his 10th birthday is his golden birthday. Celebrate his golden birthday with a special gift.
Jewelry
Give a child a gold piece of jewelry with her birthstone for her golden birthday. A locket, ring, necklace and pendant, charm bracelet or anklet are other options. If the child is young, such as 2 or 3, a pair of gold birthstone earrings is ideal as she can wear it now without fear of losing the set. Or, her parents can put away the jewelry until she's older. Alternatively, purchase a golden jewelry box or treasure box she can store her prized possessions in.
Currency
Give him real gold for his golden birthday, whether you choose gold coins or gold bars. The value of gold dips up and down, but it will have value when he's older. Alternatively, purchase stocks in gold, which can be riskier than obtaining the actual precious metal. For a younger child, such as a 3 or 4 year old, consider chocolate candy coins wrapped in gold foil in addition to the currency so he has something he can enjoy on his birthday, as well as when he's older.
Keepsakes
Give her a keepsake or have one made out of gold. A name plaque she can display on a shelf or hang on her wall is one option. Have a gold picture engraved with the words, "Happy Golden Birthday" or something similar. Purchase books that have gold covers in her reading level, or that have the word "golden" in the title. Make a plaque that says "You're Golden" or has the word golden in it. Frame a poem or special certificate with a gold frame. Make her a teddy bear or other stuffed animal and dress the animal in gold or give it gold birthday balloons.