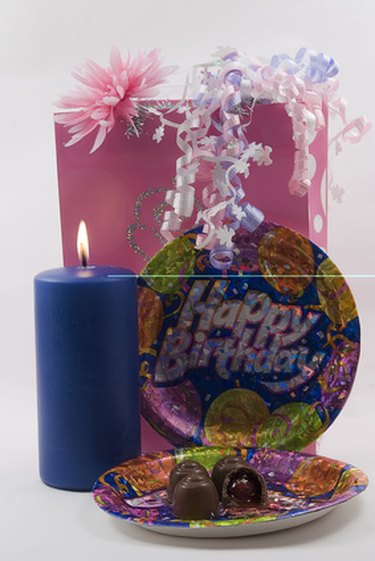 Just because a person is in his 50s doesn't mean a fun birthday celebration is out of the question. Plan a celebration that appeals to his lighter side and will give him lots of laughs. Think about his personality, likes and interests when you begin planning a 55th birthday celebration that is tons of fun.
Back to Childhood
Plan a party with a back to childhood theme. This is a fun party for both the person who is turning 55 and all of the people in attendance. For example, head to an arcade so that he can play video games, eat pizza and act like a kid again. For a 55-year-old who likes to be active, go to an outdoor park. He and his friends and family can ride go-carts, bumper boats, play miniature golf, have a paint ball war and do other things that are fun for both children and adults alike. You could also throw a back-to-childhood party at your house. Play games such as three-legged races and pin the tail on the donkey and serve hot dogs and cupcakes.
Surprise Party
When you are trying to celebrate a birthday in a way that puts a smile on someone's face, consider a surprise party. Tell the birthday girl that she is meeting her family or a few friends for a birthday dinner at her favorite local restaurant. When she arrives, have a room filled with lots of friends and family members. To make this surprise party a bit more funny, go with an "over the hill" theme. Decorate with black balloons and streamers and serve a cake shaped like a tombstone. Remember that over the hill parties can be insulting to some people, so make sure the person you are throwing the party for has a good sense of humor about her age.
Costume Party
Dressing up isn't just for children on Halloween. Throw a costume party for someone who is turning 55. You could simply ask people to dress up and allow them to choose whatever costume they want. On the other hand, embrace the fact that he is in his 50s and throw a 1950s-style costume party. Create a 1950s sock hop for the party and have your guests dress up like characters from "Grease" or "Happy Days" for a fun blast from the past.