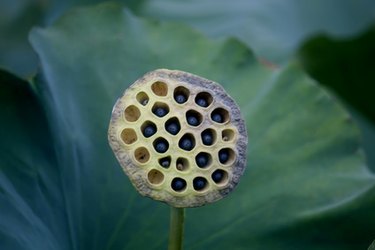 Korean birthday gifts can take many shapes and forms. Choose gift items adorned with Korean prints or more traditional items like paper gifts, pottery or drums. Incorporate a Korean theme into any gift by wrapping the gift with Korean wrapping paper.
Apparel and Accessories
For a woman, look for items like Korean prints on pendants, bracelets or earrings. Purses or bags are another popular item you might find a Korean print on. For men, look for items like cuff links, watches, money clips or Korean soccer paraphernalia. For instance a soccer hoodie or t-shirt would be a good choice for someone who loves sports. Another idea for a woman is a traditional Korean hairpin or a Korean inspired dress.
Gift Basket
One idea for a Korean birthday gift is to compile a gift basket with a theme. For a cooking inspired basket look for Korean food items. Build the basket around a Korean cook book and add items like a pair of Korean chopsticks, Korean green tea, ginseng and other Korean inspired goods. A set of coasters or a serving platter would make perfect additions to this gift basket. Other ideas include a Korean themed movie gift basket. Choose a couple of Korean movies (subtitled versions if necessary) and pair the basket with Korean treats and candies to enjoy during the movie.
Trinkets
Korean trinkets can be found at many different price points. Choose from Korean dolls, money pouches, key rings and jewelry boxes. One idea for the music lover is a Korean drum. Several options are available for drums in different styles and sizes. Paper fans are another item which can be purchased on its own as a gift or added to a gift basket. Pottery and ceramic pieces are another thing you can find for a Korean inspired gift. Mother of pearl adorns many things in Korea, choose from vases, incense holders and various boxes and chests.
Culture
For the history lover on your birthday list choose books about the history of the country. Books about Korean politics or coffee table photo books are perfect for a birthday. Other ideas include books written by Korean authors or CDs of modern or traditional Korean music. If your loved one or friend will be traveling to Korea look for a Korean travel guide. Another idea is to gift him or her cash, but first convert it to Korean currency referred to as "won."