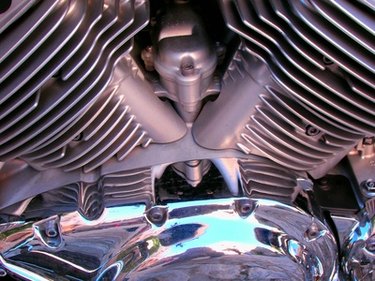 The Dyna Wide Glide and the Softail are both models of motorcycles produced by Harley-Davidson. These bikes both fall into the cruiser category of motorcycle. While they do have that and many other things in common, there are also several things that separate the bikes in terms of their styling, mechanical specifications and options.
Frame and Body
The first difference you might notice when comparing a Dyna Wide Glide and a Softail are the exposed rear shocks on the Dyna. The standard seat height on a Softail is 1 inch lower than that of the Wide Glide. The Softail is also longer, but only by a fraction of an inch. The Wide Glide has a 4-inch-wider wheel base. There is a significant weight difference between the two bikes. The standard Softail weighs 695 pounds dry, while the Wide Glide only weighs 647. The distinctive stretched rear fender on the Softail contributes to its iconic look and is absent on the Wide Glide. The defining characteristics of the Wide Glide are the substantial looking triple clamps and raked forks.
Engine
The engine in both bikes is a 96-cubic-inch V-Twin engine. They are both air-cooled twin cam engines, but the Softail carries the "B" version of this engine. It creates 1.7 pounds more torque.
Exhaust
There is a different exhaust system on each of these bikes. The Dyna Wide Glide features a "Tommy Gun" exhaust. This is a 2-1-2 exhaust system with dual mufflers. The Softail also has dual mufflers, but features a straight over-under shotgun exhaust style. This contributes to a difference in the looks of the two bikes. The Dyna's exhaust features curved lines while sharper angles are present in the Softail's pipes.
Paint
There are different paint options available for the Dyna Wide Glide and Softail motorcycles. For the Dyna Wide Glide, as of the 2011 models, customers can choose from Vivid Black, Vivid Black with Flames, Chrome Yellow with Flames or Sedona Orange with Flames. Vivid Black is also an option on the Softail, but so is Cool Blue Pearl, Merlot Sunglo, Birch White/Vivid Black, Dark Candy Root Beer/Light Candy Root Beer, Psychedelic Purple/Vivid Black and Apple Green/Vivid Black.