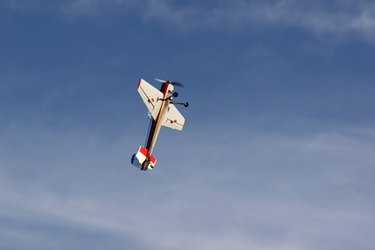 Honda produced the GX31 engine for use with small machinery, such as garden and lawn equipment. However, the engine has wide-ranging application capabilities and can power RC airplanes, boats or cars. You can even attach it to a bike to create a motorized bicycle. The engine comes in either a horizontal (SA2), or vertical (TA2) design and layout.
Specifications
The Honda GX31 is a four-stroke, overhead valve, single-cylinder engine. The engine has a total piston displacement of 31 cubic centimeters (1.9 cubic inches), and it offers maximum power of 1.5 horsepower at 7,000 revolutions per minute (rpm) and max torque of 1.2 foot-lbs. at 4,500 rpm. It has a bore (cylinder diameter) of 39 mm (1.5 inches), a stroke (piston traveling distance) of 26 mm (1 inch) and a compression ratio of 8.0 to 1. A forced-air-cooled design cools it, and the ignition system includes a transistorized magneto ignition. The carburetor is a diaphragm type, and an oil mist system provides the lubrication.
Dimensions
In its horizontal SA2 layout, the GX31 has a length of 8.3 inches, a width of 9.9 inches and a height of 9.8 inches. The vertical TA2 design has a length of 8.3 inches, a width of 9.1 inches and a height of 9.8 inches. In both designs, the engine has a dry weight of 7.3 lbs. The GX31 consumes 0.55 lbs. per horsepower hour of fuel. The engine spark plug gap measures .024 to .028 inches, or .6 to .7 mm. When cold, the engine valve clearance measures .12 +- .02 mm during intake and 0.15 +- .02 mm during exhaust.
Features and Operation
Operate the engine between 23 degrees Fahrenheit and 104 degrees F, or -5 degrees Celsius and 40 degrees C. The GX31 has an ignition timing of 27 degrees before top dead center (BTDC). The PTO shaft rotates counterclockwise when viewed from the PTO side. The GX31 holds a maximum of 0.17 gallons of fuel in the horizontal SA2 version and 0.16 in the vertical TA2 model. Both versions hold 0.1 quarts of oil. The starting system uses a recoil starter, and the stopping system uses an ignition primary circuit ground design. The engine spark plugs have the model number CR5HSB for NGK spark plugs, or U16FSR-UB for DENSO spark plugs.