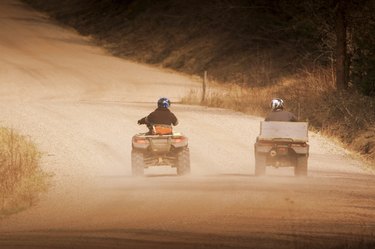 2004 was the final model year for Honda's rough-and-rugged FourTrax Rancher 350 utility quad. A favorite of sportsmen, farmers and outdoor enthusiasts, the four-wheel-drive ATV was a perennial top-seller in its class. Buyers gravitated to its characteristic Honda reliability, continuously variable transmission and what Honda called its "SUV" style.
Strong & Capable
Larger than compact quads like the Honda Recon and smaller than full-size models like the company's hulking Rincon, the Rancher slotted into the mid-size category. The ATV was 78.1 inches long, 45.0 inches wide and 44.3 inches high, with a 49.1-inch wheelbase. Its seat height was 32.4 inches and it offered 7.2 inches of ground clearance. The quad's turning radius was 10.8 feet. Its dry weight was 524 pounds and it had a 3.4-gallon fuel tank. It offered a sealed, water-tight trunk and cargo racks on the front and back. The front rack was rated for 66 pounds and the rear for 133.
Utility-Focused Drivetrain
The Rancher 350 was powered by a longitudinally mounted, 329 cc single-cylinder four-stroke engine. The air-cooled, overhead-valve powerplant had a 78.5 mm bore and a 68 mm stroke. Fuel was delivered via a single constant-velocity carburetor. The four-wheel-drive system was part-time and could be switched on and off at speed with the flick of a switch. Rancher 350 buyers could choose from two transmissions: a conventional five-speed manual or an innovative continuously variable unit. The CVT had two modes: automatic and manual, which Honda called ESP. ESP mode allowed the rider to select between ratios -- which mimicked conventional gears -- for situations requiring a low gear.
Ready for Duty
The Rancher featured a fully-independent double-wishbone front suspension and a swingarm setup in the rear. The quad rode on Bridgestone 24 x 8-12 tires in the front and 24 x 9-11s out back. Stopping duties were handled by traditional drum brakes. The front used a triple-sealed hydraulic drum while the back-end got a single-sealed mechanical drum.
Pricing and Colors
The 2004 Rancher 350 had a base MSRP of $4,899. Buyers could choose from bodywork colors of olive, yellow and red.