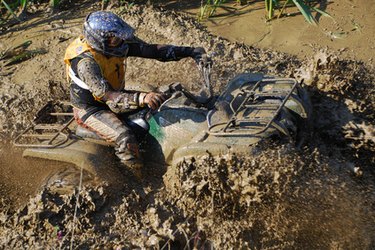 All terrain vehicles (ATVs) are useful for farming, sporting events and hunting. There are many manufacturers of ATVs, and one name that most people know is Honda. Honda has a large selection of ATVs, including the 2003 Honda Rancher 350. The Honda Rancher has many features and specifications that make it suitable for everything from pleasure riding toworking around the farm.
Suspension and Chassis Specifications
The 2003 Honda Rancher 350 has a height of 44.3 inches, a width of 45 inches, and a length of 78.1 inches. It also has a seat height of 32.4 inches and a wheel base of 49.1 inches. The 2003 Rancher has a turning radius of 10.8 feet, and a ground clearance of 9.7 inches. The ATV has an independent double-wishbone suspension in the front which provides 5.9 inches of front suspension travel. The rear suspension of this quad also has 5.9 inches of travel which consists of a single rear shock and a steel swing-arm. The front tires are 24 by 8-12, while the rear tires are 24 by 9-11. The 2003 Honda Rancher has triple-sealed hydraulic drum brakes for the front and a sealed mechanical drum for the rear brakes.
Drivetrain and Engine Specifications
The Honda Rancher 350 has a five-speed transmission. The transmission has reverse and a low first gear. This ATV has four-wheel drive that is engaged full-time. The torque-sensing differential in the front reduces the steering effort, while the automatic clutch is heavy duty and has a low engagement point. The Rancher 350 has a 329cc overhead-valve air-cooled four-stroke engine that meets the California Air Resources Board (CARB) off-road emissions standards. The engine is mounted using rubber-cushion mounts to reduce vibration. It has an electric start with a recoil starter as a backup and an electric carburetor heater system to help it run smoothly in cold weather. The muffler and exhaust header is made from stainless steel, which provides resistance to corrosion.
Additional Specifications
The 2003 Rancher 350 has a 3.4 gallon fuel tank that includes a reserve of 0.8 gallons. Available colors for the Rancher in 2003 include olive, red and orange. This quad has front and rear cargo racks, with a front payload of 66 pounds and a rear payload of 133 pounds. The Rancher also has a trailer hitch that is capable of towing up to 850 pounds. The air-intake system is designed for crossing water. It also has a foam air-filter that is reusable. For added security, the Rancher has a keyed ignition switch.