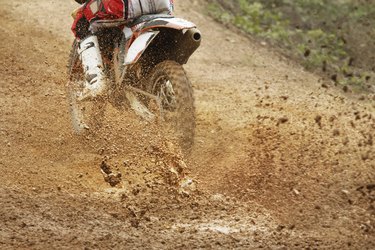 For more than 60 years, Honda has been producing motorcycles and off-road dirt bikes. The Honda XR100R is an off-road dirt bike that was built for racing and driving in rugged terrains. The XR100R was in production for a decade from 1985 until 2005. Other than the exterior color of the bikes, the specification changes have been minimal through the years.
Engine
The Honda XR100R Came with an air-cooled 99.2 cc single-cylinder, four-stroke engine and a chain final drive transmission. The valve train has a single overhead cam with two valves. The engine had a compression ratio of 9.4-to-1, and a bore and stroke of 2.1 inches by 1.8 inches.
Suspension, Tires and Brakes
The Honda XR100R had a front suspension consisting of a 1.06-inch leading axle fork with a travel of 5.9 inches. The rear suspension was a pro-link, single shock with 5.5 inches of travel. The XR100R had a 2.5-inch wide, 19-inch diameter front tire and a 3.0-inch wide, 16-inch diameter rear tire. The bike had front and rear drum brakes.
Dimensions
The Honda XR100R had an overall length of 74.8 inches, a width of 32.1 inches and seat height of 30.5 inches. The wheelbase was 49.8 inches and the dry weight of the bike was 165.3 pounds. The gas tank held 1.5 gallons of unleaded gas with a 0.3-gallon reserve.