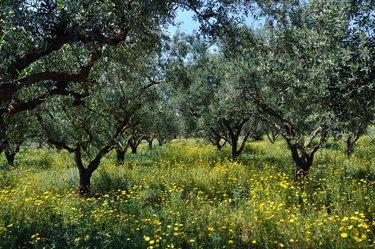 If you're fortunate enough to have traveled to the European country of Greece, you know that it is stunningly beautiful, and part of the reason for that is Greek plants. Thanks to its temperate climate and unique terrain, there are several plants from Greece that you can't see anywhere else. Learning about these plants will cause you to appreciate this ancient land even more and may inspire you to plant Greek flora at home.
Some people are surprised to learn that Greece has many trees. It's among the most forested countries in Europe. When discussing Greek trees, it's best to start with the country's national tree, the olive tree. The olive tree symbolizes peace, sustenance and mercy and is deeply rooted in ancient Greek mythology. You'll see them all over the country, including the islands.
There are many other trees of Greece, including fir and pine trees, particularly in the mountains and forests of the North. You'll also see poplars, oaks and cypress trees in the forested parts of the rest of the country. Common shrubs found throughout Greece include juniper, oleander and myrtle.
Other trees in Greece produce food besides the olive tree. These include citrus trees, like orange, lemon, peach, apple, pear, fig and cherry. Nut-bearing trees are also common in Greece, with some of the most common being almonds and walnuts.
Greece also has a national flower: the violet. This gorgeous purple bloom was a sign of the ancient Greek goddess Athena, who is also the namesake of the nation's capital, Athens. Other flowers with great symbolism to Greek history and culture include the bear's breech, whose shape is replicated in many ancient columns.
In addition to violets and bear's breech, you'll see many blooms throughout Greece that are familiar to individuals who live in the United States. These include many colors of roses, daisies, lilies, orchids and poppies, which can make for a beautiful and very colorful garden.
Greece also has a national plant, and it should be no surprise that it is laurel. It has powerful cleansing powers and is supposedly good for the mind and body. Laurel has long been a symbol of victory, crowning the heads of champions in every area of life, including athletes, academics and leaders.
Greece is also known for having vast fields of wildflowers, so have your camera ready as you drive through the countryside. Every region has flowers unique to its terrain that don't grow naturally anywhere else in the world. Greece is commonly associated with aromatics and herbs, which grow plentifully throughout this historic and diverse country. You'll recognize many of them from traditional Greek dishes and will enjoy them in your food while visiting the country. They include rosemary, sage, oregano and thyme, and there's also a type of curry that grows well in Greece.
Because of the relatively temperate climate in most of the country, especially close to the Mediterranean, Greeks enjoy fresh produce year-round. Certain vegetables are popular in Greek dishes and thrive in the country's terrain. These include asparagus, green beans, zucchini, peas and green onions.