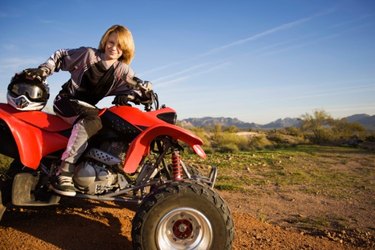 The 2002 Honda Foreman ES450 is the first quad unit to have both two-wheel drive and on-demand four-wheel drive. Former models were either strictly two-wheel drive or four-wheel drive, never having been a combination of both. This now allows the operator to select a mode while at speed.
Engine
This Honda 450 has an engine displacement of 433 cc (26.42 cubic inches), which is air-cooled. The four-stroke, single-cylinder engine has overhead valves (OHV) and is longitudinally mounted. The bore and stroke is 90 mm (3.54 inches) by 68 mm (2.67 inches) with a carburetion readout of 32 mm (1.25 inches) Constant Vacuum (CV).
Ignition and Starter
The Honda 450's ignition is designed to employ Direct Current (DC) Capacity Discharge (CD) with electronic advance, and is combined with an electric starter using an auxiliary recoil.
Transmission and Clutch
An Electric Shift Program (ESP) drives this five-speed Honda with included reverse and an automatic clutch system. This model Foreman's front and rear drive-shafts are directly driven with Honda's proprietary Traxlok technology and a limited-slip front differential.
Suspension
The front suspension of the Foreman is an independent double-wishbone with 5.9 inches (149.86 mm) of travel. Suspension in the rear is a swingarm unit with dual shocks and 5.9 inches (149.86 mm) of play.
Brakes and Tires
The front brakes are a dual sealed, hydraulic drum, whereas the rear brakes are a nearly identical (though singular) sealed drum. As for tires, in the front are two 25 by 8-12's, with two 25 by 10-12's making up the rear.
Dimensions and Capacities
This Honda Foreman extends in length approximately 77.3 inches (196.34 mm), with a width of 45.3 inches (115.06 cm) and a height of 45.0 inches (114.3 cm). Seat height is 33.6 inches (85.34 cm), with a ground clearance of 7.7 inches (19.55 cm). The wheelbase measures 50.2 inches (127.50 cm).
It weighs in at 595 pounds (269.88 kilograms) and holds a fuel tank capacity of 3.2 gallons (12.11 liters), in addition to a fuel reserve of 0.7 gallons (2.64 liters).